With the many stringent quality standards in the food and beverage industry, it is very important to ensure that you choose a palletising system that will enable you to maintain these high-quality standards. You will want to ensure that the automated palletising system you choose will be able to palletise your products without causing damage to the packaging or the product itself.
Types of Palletiser
There are many different types of palletising system on the market, and it will depend on your process, and the product being palletised as to which system will be best suited to your application.  Some of the more common types of automated palletising systems are:
Robotic palletisers – these are typically the most versatile, and are suited to almost any palletising application. They can palletise product as single items, rows, or even whole layers depending on the application and speeds required. Some systems can be quickly re-programmed by your production staff for different box sizes and layer configurations.
Layer formers – these are typically used for very high-speed palletising applications where the product is of a consistent shape and size. Product is usually palletised as layers.  If your product or palletising requirements change, a programmer will usually be needed to set up new products and layer configurations.
Collaborative palletisers – these are best suited to very low speed, low payload applications, where the product can be vacuum picked from the top. Underneath gripping and bag gripping are not possible with collaborative palletisers due to their low payload. Although collaborative robots are called collaborative, the forces and speeds that are usually involved when palletising still technically require guarding or laser area scanning for them to be compliant.  
Types of Product That Can Be Palletised
Virtually any type of product can be automatically palletised, and it is usually just a case of using the right gripper to enable the product to be picked and placed onto the pallet. Slip sheets can also be automatically placed between layers, and the pallet can be automatically shrink wrapped when complete. Some of the most common types of products that are automatically palletised include:
Boxes/cartons/display boxes
Bags/sacks
Open top boxes
Trays/bale arm crates
Bottles
Cans
Barrels/Drums
Collation/Transit trays
Palletiser Gripper Types
The type of gripper required will depend on the product you wish to palletise, and most grippers can also pick and place slip sheets and pallets.  Below is a brief summary of the different types of grippers that are commonly used, and the types of products they are usually used for.
Foam vacuum gripper – A foam vacuum gripper is typically used where the top of the product is flat and it can be vacuum picked from the top. Products that are usually vacuum picked include: boxes, display boxes, cartons, some types of bags, and some types of cans.
Vacuum row gripper – Vacuum row gripping works on the same principle as a foam vacuum gripper but it picks and places multiple items at once. This is usually used to increase the palletising speed, and products that this may be used for include: boxes, cartons, and some types of cans.
Bag gripper – A bag gripper has positioning pins, lifting pins and a centre clamp which provides extra support as the product is moved. This all helps to form a neat stack once the bags are on the pallet.  Bag grippers are usually used for sacks and bags that are not suitable for vacuum picking.
Underneath gripper – An underneath gripper has tines that go underneath the product and a clamping arm that clamps onto the top of the product whilst it is being lifted. Underneath grippers are used for a variety of different applications such as open top plastic or cardboard crates, open top boxes, boxes that are not strong enough to be lifted with a vacuum gripper, shrink wrapped items such as packs of bottles, products that are in collation or transit trays, etc.
Parallel gripper – A parallel gripper has two side plates that close parallel to each other onto the two sides of the product and then lift it.  This type of gripper is usually used for boxes where the product is a regular shape, but vacuum gripping is not possible.
Barrel Gripper – A barrel gripper has two curved arms that clamp together around the barrel. This type of gripper is usually used for barrels or drums that aren't suitable for vacuum gripping.
Bespoke gripper – Sometimes a standard gripper will not be suitable to lift a product due to its size or shape. Therefore, a bespoke gripper may need to be manufactured to suit the product. Items that require a bespoke gripper are usually irregular in shape and cannot be lifted by vacuum such as big 25L bottles that need to be lifted by their handle.
You can watch some videos showing some of the different gripper types and products being palletised here.
Things To Consider When Specifying Your Palletiser
There are many different things that need to be considered when specifying a palletiser, and some of the key things to consider include:
Purpose and scope of palletiser – What does the palletiser need to achieve? Where will the product come from and where does the finished pallet need to be removed from?
Product type – What is the product that needs to be palletised? Is it ambient temperature or chilled? Is the size consistent?
Process information – How will the product arrive at the palletising cell?  Will it arrive as single products or as multiple items?
Installation environment – What is the hygiene level of the area where the palletiser will be installed?
Project specifications – How many lines will the palletiser need to palletise? What are the key things that the palletiser needs to achieve? What speeds are required?
Equipment specifications – Typically for a palletiser, you would normally specify that the HMI touch screen interface would provide all necessary information for the operator to operate the machine and deal with minor stoppages without the need for the maintenance team.
Training – Typically staff training on the system should be provided by the supplier.
Pallet specification – What type of pallets will be used? Does the machine need to be able to palletise onto different sizes of pallet?
This is just a brief overview of the many different things that need to be considered when specifying your palletiser, and they are all explained in more detail here.  There is also a downloadable Palletiser URS document available for you to download and modify to suit your specification, to ensure that you have covered everything when specifying your palletiser.  It can be downloaded here.
If you would like to discuss your specific palletising application, feel free to contact us on 01223 499488 or helpline@granta-automation.co.uk and we will be very happy to help.
Contact us for help with your project
Find out more…
Watch videos…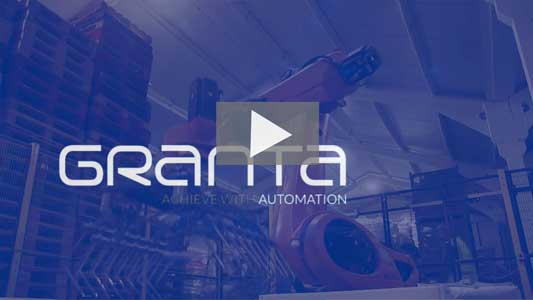 Palletiser application examples…