According to the latest report from the International Federation of Robotics, robot sales in Europe, Asia and the Americas have surged in 2021 (https://ifr.org/ifr-press-releases/news/robot-sales-surge-in-europe-asia-and-the-americas), with a new record of 486,800 units being shipped globally.
Sales in Asia/Australia were the strongest with a 33% increase in installations, Americas increased by 27% and Europe by 15%. At 486,800 robot installations, sales have exceeded the pre-pandemic record of 422,000.
Some of the industries that this robot installations increase has come from are:
Food & Beverages +24%
Plastics & Chemical +21%
Electronics +21%
Automotive +37%
Metal & Machinery +38%
There are many reasons that manufacturers are turning towards automating processes and installing robots, and with all companies it's a case of making the decision as to when you will adopt automation rather than whether or not you will.  All companies will eventually have to adopt automation if they want to stay ahead of their competition and remain competitive.
If we turn back in time, there are many industries that simply would not have survived and kept up with the current demand if they had not automated.  One of the key examples of this is car manufacturers. In Spring 2021, VW manufactured around 40,000 cars per day https://www.volkswagen-newsroom.com/en/production-and-locations-3695: a completely unachievable figure if production wasn't automated! 
These stats all point to the fact that no manufacturing company is exempt from automating their production, and really, it's just a case of 'when' to automate rather than 'if'.  Some of the key factors that often lead a company to automate include the need to:
Overcome labour shortages
Boost productivity
Improve safety
Reduce labour costs
Improve product quality
Reduce downtime
Bring production back in house
Automation can take many different shapes and forms and can be something as simple as picking and placing a product, or it can be as complex as automating the complete manufacturing process of a product from raw material right through to the finished product being put on pallets ready for shipping. 
Contact us for help with your project
Find out more…
Watch videos…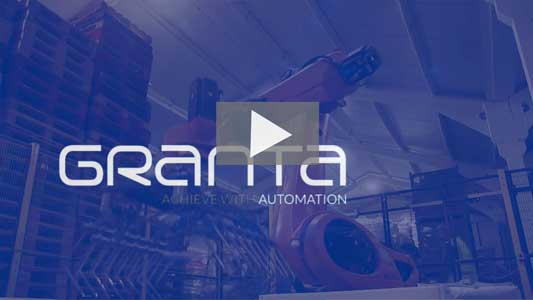 Palletiser application examples…