Well, the short answer to this is yes! With the right gripper head, palletising of open top boxes and crates can easily be automated.
Below is a short video showing an underneath gripper palletising open top plastic trays.
As it is not possible to lift open top crates or boxes with a vacuum gripper, an underneath gripper will typically be used. However, bespoke grippers can also be made to lift the product should an underneath gripper not be appropriate. An underneath gripper has tines that slides underneath the open top crate or box, and an arm that goes across the top of the item and clamps down onto it to hold it in place. Once the product has been placed in the desired location on the pallet, the top clamp is released and the gripper tines are withdrawn from under the product.
An underneath gripper also has an integrated vacuum gripper that is used to pick and place pallets onto the conveyor, and also to pick and place slip sheets.
With the GA15 palletising system, stack patterns are automatically optimised in the software, and you can then select the stack pattern that best suits your requirements. The easy programming software also allows your factory staff to reprogram the palletiser for different sizes of crate of box within minutes.
An automated palletiser can also often be used to palletise two types of product off two different production lines.  This helps to minimise capital outlay requirements and helps to keep the floor space requirements to a minimum.
If you would like a budget quote on an automated palletising system, then simply give us a call on 01223 499488 or if you prefer, simply enter your project details into our project builder and we will send you a budget quote.
Contact us for help with your project
Find out more…
Watch videos…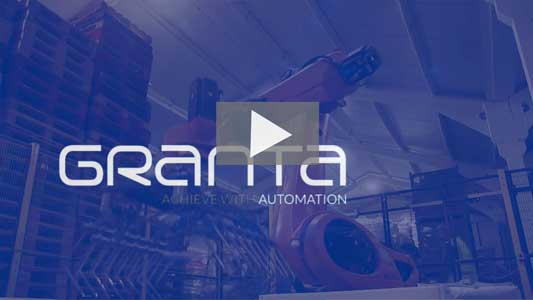 Palletiser application examples…