The standard layout of a Granta GA15 compact palletising cell is approximately 4 meters x 1.6 meters in size, but this can vary depending on your application. The main advantage of this cell is the fact that it is very compact, whilst still having the benefits and payloads of an industrial robot palletising system.
Key features of the compact palletising cell include:
Pallet trucks can be used for pallet change as well as fork lift trucks. This is very useful where space is tight and pallet trucks need to be used as there is not room for a fork lift truck.
The system can be used on high speed lines and can include row gripping if required. Many compact systems are not able to handle high speeds and volumes of product as they are not able for the required cycle times. This systems has the benefit of being compact as well as able to handle quick cycle times.
120 kg robot payload which allows the system to palletised heavy boxes and bags despite it's compactness.
Entry to the system can be via a physical gate or light curtain
Points to be aware of with a compact palletising cell are:
The system will stop whilst pallets are removed and changed over. This does not usually present a problem unless you are running a very high speed line and do not have the necessary buffering space.
Slip sheets and auto pallet feeding can be added to the system but this will increase the cell size.
Compact palletising cells are typically used where there is very little floor area available, and the budget is tight. The system is very compact in size, but is more versatile than a cobot palletising system as it has the payloads and speeds of an industrial robot palletising system.
If you would like to discuss the best palletising system for your specific application, and the speeds/cycles times that can be achieved, feel free to contact us on 01223 499488 or helpline@granta-automation.co.uk. 
Contact us for help with your project
Find out more…
Watch videos…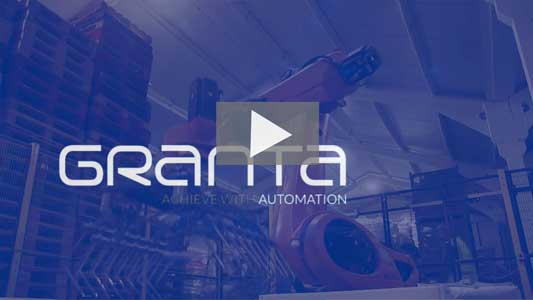 Palletiser application examples…