There are many different types of products that a robotic palletiser system can handle. From cartons, boxes, bags, bottles, and collation trays, right through to open top crates and display boxes. However, a robotic palletiser is not limited to just these types of products.
With a robotic palletising system, the robot gripper or head is designed to suit the type of product being lifted.  There are many different varieties of gripper head and bespoke grippers can be created to pick and place product if a standard gripper is not suitable for the product.  Below is a brief summary of product types and the type of grippers that are used to pick and place them with palletising.
Vacuum Gripper
A vacuum gripper picks and places using vacuum so it is well suited to products with a flat, non porous surface area.  It may pick one product at a time or multiple products at a time depending on the speed requirements of the production line.  Products that can be picked and placed using a vacuum gripper include:
Boxes
Cartons
Display boxes
Some types of bags
Panels
Sheets
Boards
Bag Gripper
A bag gripper has positioning pins, lifting pins and a centre clamp which hold and support the bag as it is being picked and placed.  Products that can be picked and placed using a bag gripper include:
A bag gripper will be able to pick and place bags and sacks of any material type; such as plastic, paper, hessian etc.
Underneath Gripper
An underneath gripper works by sliding the product onto tines, and then gripping the top of the product whilst it is being picked and placed.  This type of gripper is usually used where the product is fragile, or can't be picked and placed using vacuum or a bag gripper.  Products that can be picked and placed using an underneath gripper include:
Heavy cartons or boxes
Boxes that are not suitable for vacuum picking
Bags that can't be picked and placed with a bag gripper or vacuum picked
Collation trays
Open top boxes
Display boxes
Open top plastic crates
Open top cardboard crates
Shrink wrapped items
Packs of bottles
Parallel Gripper
A parallel gripper picks and places items using two parallel plates that close in against the items sides to grip it whilst it is being picked and placed.  Products that can be picked and placed by a parallel gripper include:
Boxes
Shrink wrapped trays of goods
Display boxes
Bespoke Gripper
A bespoke gripper is specifically designed to pick and place a particular product.  They usually clamp the product in some format, and this clamp is then released once the product has been picked and placed. Products that are usually picked and placed with a bespoke gripper include:
Large bottles, ie. 3 litre or 5 litre bottles
Drums
Cans
Irregular shaped items
Very heavy items
Very large items
Fragile items
As you can see, a robotic palletiser can handle a virtually unlimited number of different product types!  The type of gripper used in each application will depend on the product type being palletised along with the palletising speeds that are required.
If you would like to know if your product would be suitable for automated palletising then feel free to get in touch with us on 01223 499488 or contact us at helpline@granta-automation.co.uk.  We will also be very happy to arrange a free trial of your product on a palletiser if you require this.
Contact us for help with your project
Find out more…
Watch videos…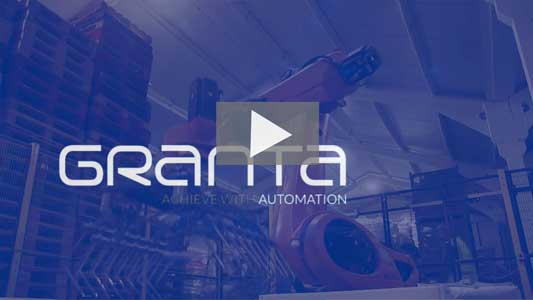 Palletiser application examples…