What was our biggest learning about the future of robotics during our recent visit to Automatica 2022?
After every trade fair and event, there is an important period of reflection. We think back over what we saw, heard, and learned during the event. We think about the ideas, trends, and changes that we experienced compared to the previous version of the same event.
We have now had a good time to think after our recent visit to the giant Automatica trade fair, during which we published live coverage of the entire event.
One of our big takeaways from the event was the significance of community, applications, and relationships within our industry.
It was very clear how important the community is for continuing to drive innovation and adoption in robotics. In order to create truly groundbreaking products, it is essential we have a strong community of experts and users to share knowledge and best practices.
Connections: our top takeaway from Automatica 22
One of the best things about trade events like Automatica is the chance to meet so many people from different countries who are passionate about the applications of robotics.
It's always inspiring to see the latest innovations in our industry and hear about the new ways that people are applying robots to their processes.
At Automatica, we created a lot of new connections with new robot users. Many people were interested in seeing how they could use robotic technology to meet their business goals and overcome the challenges they were facing.
We also had many great opportunities to build our existing relationships with other robotics providers in the industry. Various other booths were using Robotiq components in their demos, so we had a dedicated support team on hand to help those partners with their integration questions.
Such connections are essential both for helping our community strong and dynamic. The existing Robotiq community was one reason we could so successfully weather the Covid-19 global pandemic.
Why is the community such a vital aspect of modern robotics?
Unlike some other technologies, robotics is a collaborative technology by nature. You can't do it all by yourself. Even those providers that do aim to offer the entire range of robotic components — such as the Big 4 robotics providers and newer arrivals like Neura that seem like they may go in that direction — can't operate in a vacuum. A single company usually can't excel at everything. Users often request third-party hardware and software platforms. Distributor networks and integrator partnerships are also a core part of most robotic company strategies.
The global pandemic has been a trying time for us all. But the strength of the robotics community has been a force that has kept the whole industry together.
Our CEO Samuel Bouchard talked about this importance of community in his interview at the event.
Why applications are the new big thing in robotics
Palletizing, machining, welding, and other self-contained applications were clearly the star of the show at Automatica this year.
Why has there been such a powerful move towards application kits recently?
Many of the new wave of robot users don't have the expertise to follow a DIY approach to robot integration. They want to get started as soon as possible and don't have the time to waste to train their people in conventional industrial robotics.
Thanks to advances in plug-and-play robotic technologies, there are now many more robotic application solutions than there were before. These solutions are user-friendly and can be deployed to a business in a matter of days or weeks. This makes robotic automation more accessible than they were in the past.
This trend toward application kits is why we are continuing to expand our range of application solutions, such as our new machine tending solution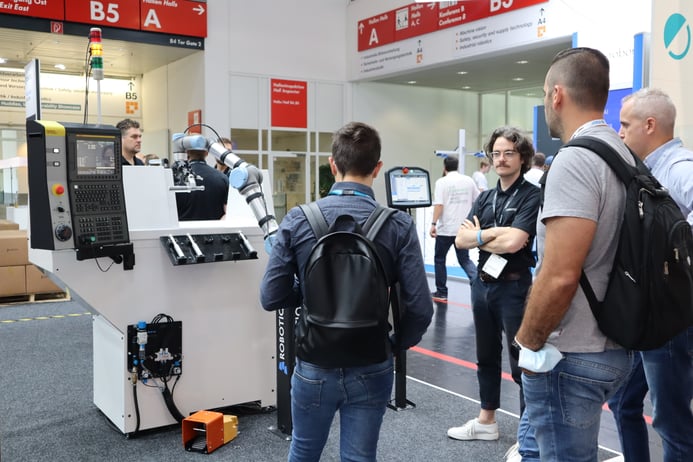 Diversity and ecosystem health will secure the future of robotics
The Automatica Forum was part of the supporting program at the trade fair. It included a series of presentations and discussions on topics relating to robotics and the industry.
One theme that came out of that supporting program related to our core takeaway from the entire event — the need for a strong, diverse ecosystem and community.
Esben Ostergaard also touched on the importance of a strong ecosystem in his opening keynote of the Automatica Forum. He talked about how the strong ecosystem was a core part of the success of collaborative robotics. He also highlighted a potentially concerning new law about AI in robotics, which we should address as a community.
Diversity was also a core focus. Diversity is important because it helps us to learn from each other to create a stronger robotics community overall. By working together with a strong range of backgrounds and perspectives, we can create a bright future for robotics.
What's next for robotic communities?
As our robotic technologies and solutions continue to evolve, so too do the communities that support it.
Now that the Covid-19 pandemic is largely behind us, there is a trend toward more in-person events. This trend will continue to grow over the following years.
We think that the continued interest in application kits will bring more and more people into the robotics community. These people will join us at events like Automatica to share ideas and learn from each other. Though many are not experienced roboticists, their perspectives will help us all to make robotics a valuable technology for everyone.
Ultimately, the move to more diverse communities suggests that the future of the robotics community is looking bright. We can't wait to see how it will continue to grow over the coming years!
How important are communities for you in robotics? Tell us in the comments below or join the discussion on LinkedIn, Twitter, Facebook, or the DoF professional robotics community.