News briefs for the week take a look at robots unloading "floor-loaded cargo" from containers, trailer trucks or railroad boxcars; unmanned surface vessels (USVs) and unmanned submersibles (UUVs) conducting totally autonomous missions, where all vessels work together "collaboratively"; crumbling and rusty infrastructure with a sizeable payday ahead for robotics developers with solutions to offer; and yet another apple harvesting robot taking on the elusive orchard challenge.
Pickle Robot's loading-dock solution nabs $26 million
As logistics vendors close in on picking, packing, and palletizing with their robots and cobots, the loading dock at warehouses still remains elusive to automate, says founder and CEO AJ Meyer of Cambridge, MA-based Pickle Robot.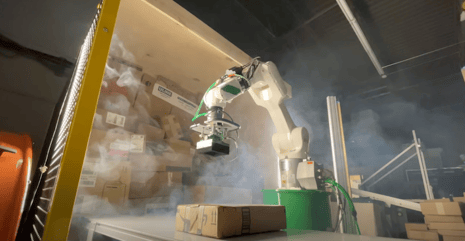 Unloading floor-loaded cargo from containers, trailer trucks or railroad boxcars is slow and tedious for human labor…and dangerous for on-the-job accidents (see video).
Hard to believe that worldwide freight doesn't all move on pallets, but much doesn't, according to shipping specialists Able & Womack: "To save money, many distribution and fulfillment companies utilize floor-loaded shipping containers, even though this shipping method requires additional labor to unload, palletize and check the inventory compared to a palletized load. Floor-loaded "can hold more, weigh less and is usually more cost effective due to the freight savings."
Pickle's robot, named Dill, is based around a KUKA arm capable of up to 30 kg of payload. It uses two Intel L515s (LiDAR-based RGB-D cameras) for box detection. The system is mounted on a wheeled base, and after getting positioned at the back of a trailer by a human operator, it'll crawl forward by itself as it picks its way into the trailer, say the folks at Pickle.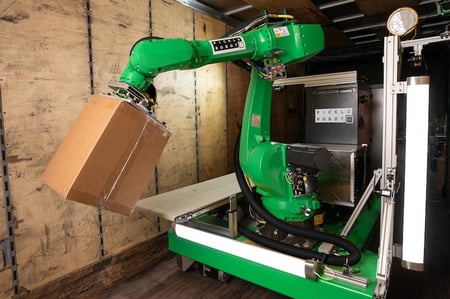 Amazon and Boston Dynamics, as well as Siemens and Honeywell, have specialized, truck-unloading robots, but theirs also work "unsupervised." Pickle, on the other hand, converts simple, off-the-shelf robots to do the unloading job, but recommends supervision by a human. Simplicity, ease of conversion, and the ability to scale rapidly are much of the reasoning why investors just loaded Pickle with $26 million in Series A financing.
Pickle's website claims that Dill can "unload floor-loaded, non-palletized goods at 600+ PPH" (600-plus boxes per hour), incessantly in any kind of suboptimal work conditions. "A single human in top form can move about 800 boxes per hour."
What then about "loading" a truck? According to Industry Week, solving the three-dimensional puzzle of loading a trailer is tougher than for unloading one. Atlanta/Shenzhen-based "Dorabot, which has backing from Chinese e-commerce titan Jack Ma, is testing automated loading technology with two customers."
Dorabot's AI-driven robots can load 400 parcels an hour into a trailer, filling 60% of its capacity — in line with what a person can do — said Dorabot's Chief Executive Spencer Deng. "Dorabot expects to improve speed by about 50 parcels an hour, and fill 80% of a truck's capacity, before going to market within a year and a half, Deng said."
In the meantime, unloading, which is only half the logistics battle in most warehouses and distribution centers, appears to be closing in on a permanent solution, and Pickle Robot is betting on Dill.
Torpedo-size sub as undersea "cobot"
How about a robot submarine the size of a torpedo operating autonomously and collaboratively with other unmanned surface vessels (USVs) and larger submersibles (UUVs) for joint, totally autonomous missions, where all vessels work together collaboratively?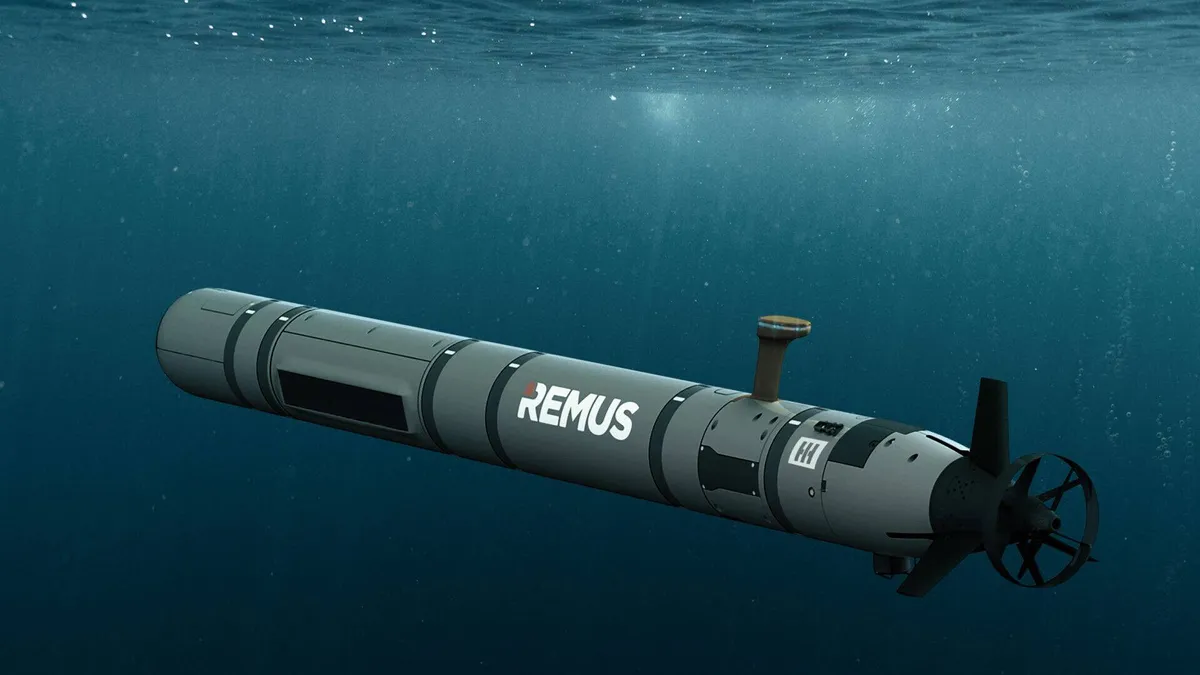 Meet the REMUS 620, a new generation of medium unmanned underwater vehicle (MUUV) for mine clearing and countermeasures, hydrographic surveys, intelligence collection, surveillance, cyber warfare and electronic warfare.
McLean, VA-based Mission Technologies, a division of HII (Huntington Ingalls Industries), recently announced the launch of the 32cm by 4.3meter submersible that weighs in at 320kg. REMUS, based on technology originally developed by Woods Hole Oceanographic Institution, is a long-range endurance subsea robot craft with a battery life of up to 110 hours and a range of 275 nautical miles that can dive to 305 meters (1,000 feet).
Duane Fotheringham, president of Mission Technologies' Unmanned Systems business group said: "With a synthetic-aperture sonar installed, the REMUS 620 has a shorter battery life of 78 hours and a shorter range of 200 nautical miles. The MUUV can sprint up at 8 knots with a navigation accuracy of 0.1% of distance traveled."
Crumbling & rusty: America under the hood
Ever since President Biden signed the country's infrastructure bill into law, Pittsburgh-based Gecko Robotics has been on a hot streak with its inspection robots and assessment software.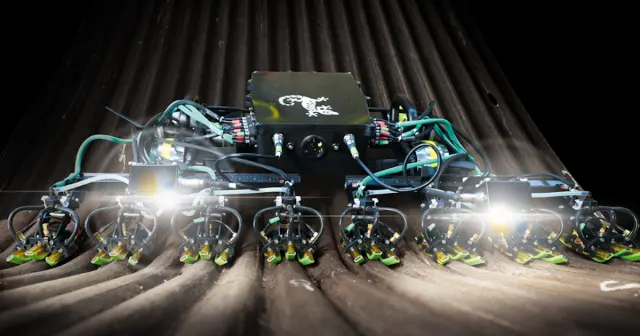 Infrastructure is in the headlines everywhere, which means that a sizeable payday is ahead for robotics developers with something to offer.
Gecko Robotics, from the look of recent headlines, must be at or near the top of that list. Here's the company's recent headlines:
In June of 2022, Gecko (founded in 2013), has been the subject of more than a few headlines: Industrial inspection startup Gecko Robotics raises $73 million. Then again in October of 2022: Gecko Robotics Works With Siemens Energy to Strengthen European Critical Infrastructure; and then again in November of 2022: Gecko Robotics lands $1.5M contract with U.S. Air Force. All in six months!
Since 2016, the company has reeled in $122.3 million in investments.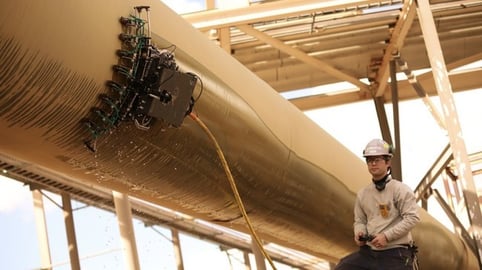 "At Gecko, the mission of the company is to protect today's most critical infrastructure and help give form to tomorrow's," says Jake Loosararian, the robot makers CEO and co-founder.
Gecko builds robots, like the Toka 4, that can "climb walls, crawl across ceilings and navigate through pipes in some of today's most important infrastructure: power plants, refineries, manufacturing sites, hydroelectric dams, and even ships and submarines.
"The robots analyze the assets to understand their structural integrity to anticipate when they'll fail—and help prevent the failures from happening in the first place." (see video)
Everything ages and eventually a reckoning arrives when everything needs to be repaired or replaced, or else! The American Society of Civil Engineers estimates that $4.5 trillion is needed to fix the country's roads, bridges, dams, and other infrastructure. The recently passed Infrastructure Investment and Jobs Act of 2022 provides $1 trillion toward that effort.
Gecko's remote-controlled robots can climb vertically and horizontally, using magnets to adhere to a wide variety of materials.
While climbing, the robots use ultrasonic transducers, localization sensors, lasers, and HD cameras to scan for wear, corrosion, cracks, blistering and other forms of degradation. The assessment is forwarded in real time via Gecko's software for analysis.
Are apple orchard robots finally a viable alternative?
Even if there were abundant workers to manually harvest apples, which isn't the case any longer—a labor situation worsening daily—there would still be a strong case to harvest via robot automation.
First and foremost, the sheer numbers of apples to be harvested is beyond mind-boggling. Washington State produces 5 billion annually, most of which are still picked by hand. The king of apple growers is China with 43 billion annually that each need to be handpicked.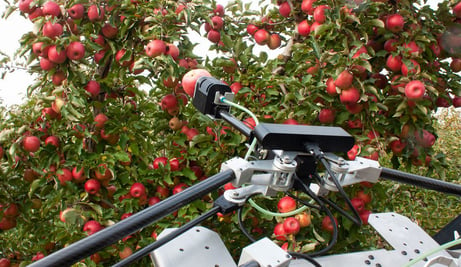 And it not just the mounting labor situation; lots of money is to be had for whoever can solve the robots on the farm conundrum. The opportunity for automating agriculture is enormous. A 2020 report by the consultancy McKinsey & Company found autonomous farm machinery could add up to $60 billion to global GDP by the end of the decade.
One of the newest challengers is Australia-based Ripe Robotics and its robot Eve.
Technology is beginning to lend a hand to the robot apple pickers. Computer chips have become much faster and more efficient, letting robots do more complex tasks. Vision systems, which let them identify items, have improved dramatically, says Leopold Lucas, co-founder.
"Rural internet is quicker and more reliable. And even some farming practices – like planting apple trees on trellises that make orchards easier for machines to navigate – are helping too".
After all the tech help, however, the job falls to the robot to do both night and day, and in all sorts of weather conditions.
"Ripe is doing trials this year in deals with farmers where it is trying to match human costs of about $60 per bin of apples picked. Once it proves its concept by picking a full bin, it's is hoping to raise $3 million to $5 million to hire staff and grow its fleet of robots.
Judge for yourself if Eve is up to the apple challenge: