News briefs for the week take a look at robots and cobots in automated and semi-automated laboratories, in what's now called Pharma 4.0. From drug discovery, to the manufacturing and packaging of new pharmaceuticals, the marriage of AI and robotics has been crucial to the process. It's a new world for robots and cobots, and they are proving themselves up to the task, and then some.
Robots & cobots supply Pharma 4.0
Robots and cobots, more and more, are beginning to exert an outsized impact on life-saving and disease-preventing new drug discoveries, medicines, and therapeutics.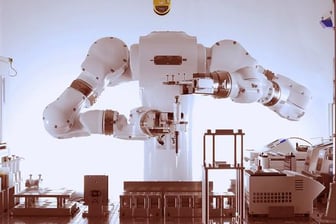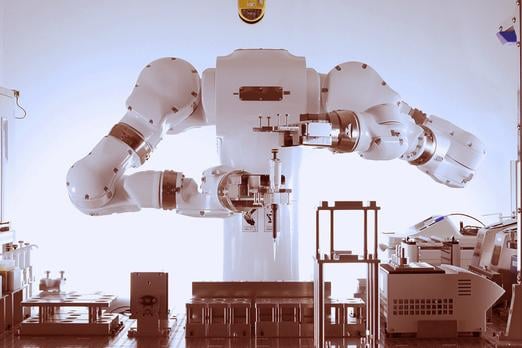 Although specialized laboratory robots have been around since the 1980s when Zymark Corporation first introduced them, uptake has been sluggish. "The pharmaceutical industry has been slow to adopt robotic technology compared with its manufacturing peers," writes Lars Olsen in TechTalk. "But with the FDA encouraging the use of innovative technologies, it's only a matter of time before the use of robotics in biotech goes from first-mover to standard."
Moderna, for example, leaned heavily on robots to meet its COVID-19 vaccine deadlines. Dave Johnson, chief data and artificial intelligence officer at Moderna, recalls Moderna's conversion to digital: "One of the big bottlenecks was having mRNA for the scientist to run tests in. So, what we did is we put in place a ton of robotic automation, put in place a lot of digital systems and process automation and AI algorithms as well." 
The digital transformation of these labs via automated, AI-driven robotics is being called Pharma 4.0 (sound familiar?)
Here's a video overview of laboratory transformation:
Turns out, pharma, therapeutics, and biomedicine labs are perfect places for robots and cobots. Robots and cobots offer tireless labor and error-free productivity that's faster, more accurate, and cheaper than humans.
For example, German biotechnology company Evotec, announced a new anticancer molecule from its work with UK-based Exscientia that applies artificial intelligence (AI) techniques to small-molecule drug discovery. A discovery made possible in part to robots that cut sample testing from 4 to 5 years to 8 months.
In one emerging field, robots and AI are beginning to partner to swiftly process millions of molecules while searching for transformative new treatments through digital biology. One pharma-tech company, XtalPi, is even adding quantum physics to the AI, robot discovery search.
In many cases, if it were not for robots, therapeutics such as Evotec's would not be saving lives for another 4 to 5 years.
And the near-term future for robots and cobots in labs looks even brighter. In fact, the forecast is near mind-boggling. The 10-year jump from 2020 to 2030 sees nearly a tripling of industrial robot and cobot sales in the U.S. (see chart below).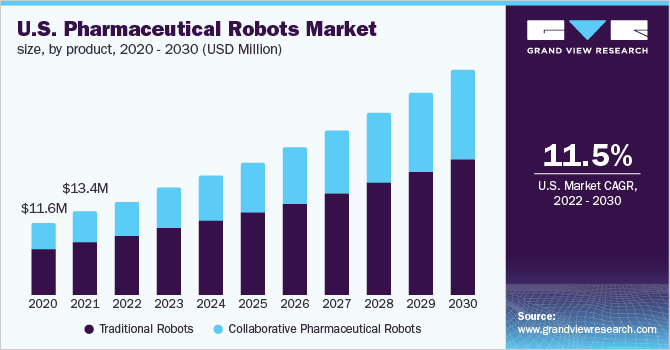 Worldwide, according to Grandview Research, "the global pharmaceutical robots market size was valued at $162.7 million in 2021 and is expected to expand at a compound annual growth rate (CAGR) of 9.2% from 2022 to 2030.
"The growing need for automation in manufacturing units, coupled with the high costs of new drug discovery, is significantly increasing the demand for robotics in clinical trials, drug discovery, and laboratories for automating the procedures.
"In addition, key companies are introducing technologically advanced robotic machines, which has further led to the tremendous growth of the market. With rising demands for precision, output, and faster turnaround times, automation and robotics have gained traction in the pharmaceutical industry."
There's an ever-growing list of those in the AI drug discovery space quickly onboarding robots to better enable and accelerate the process: Recursion Pharmaceuticals, Arctoris, Insitro, Relay Therapeutics, and Insilico Medicine are the pioneers in the field of AI and robot laboratory partnering.
There's also an ever-growing list of robot and cobot vendors, like Turin-based Comau and Stäubli Robotics, Horgen, Switzerland, among a dozen others, that are either quickly adapting existing robots for lab work or developing completely new robots to meet the burgeoning needs of Pharma 4.0.
PACK EXPO International 2022
Of course, testing for, discovery, and perfecting any laboratory product doesn't end there. Like any other product, it still needs to be manufactured, packaged and shipped to clinics and hospitals in need. Pharma 4.0 goes beyond the lab…and so do the robots and cobots as well.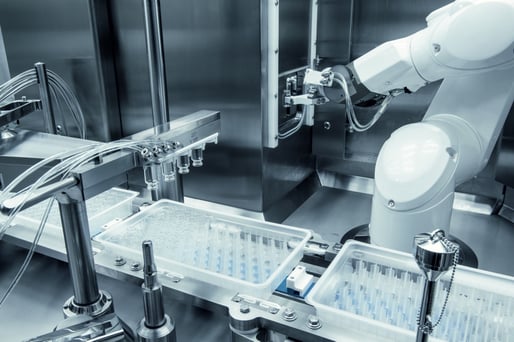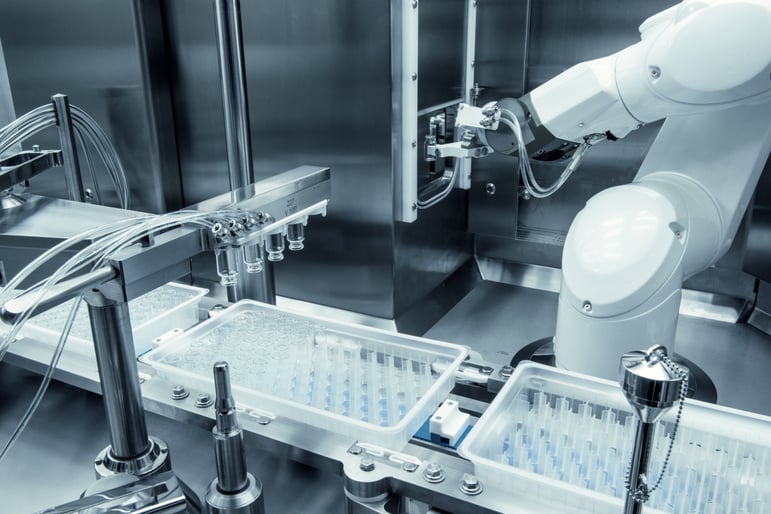 PACK EXPO International 2022, which just concluded in Chicago (October 23-26), had a massive 70,000 square foot pavilion dedicated to life sciences packaging for companies that are manufacturing pharmaceuticals, biologics, nutraceuticals, and medical devices.
Stäubli Robotics highlighted its TX2-60 Stericlean robot for pharmaceutical manufacturing and packaging at the Pack Expo.  The Stericlean is a line of robots suitable for Grade A, B and C environments. The robot has a fully enclosed structure with custom seals to minimize penetration of airborne particles.
The Stericlean is designed to be flexible for drug delivery formats including vials, IV bags, syringes, cartridges, and transdermal devices.
And the Stericlean is completely resistant to hydrogen peroxide (H2O2) cleaning procedures. With the robot's special joints and enclosed IP65 structure, Stericlean robots are designed to handle decontamination processes in Vaporized Hydrogen Peroxide (VHP) environments.
Industrial robot and cobot developer, Comau, is also making a dash for the laboratory market space with the introduction of its Racer-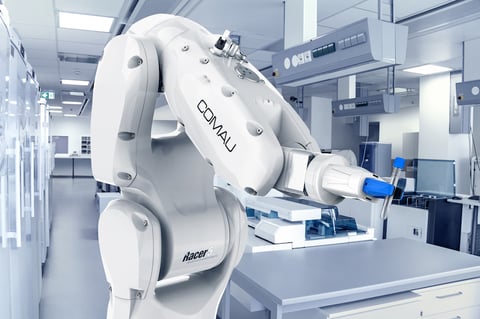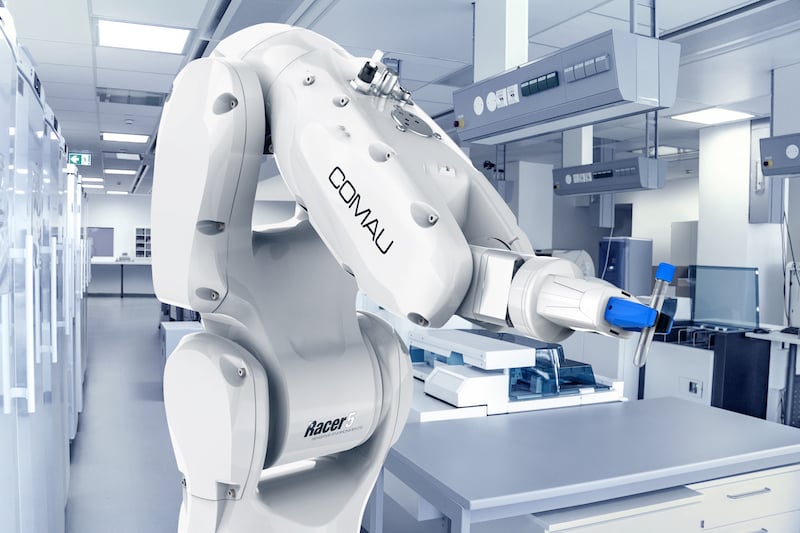 5 SE (Sensitive Environments). Racer-5 SE is a high-speed industrial robot converted "special and sensitive settings" that characterize the pharmaceutical, health and beauty, food and beverage and electronics industries.
The Comau lab robot features a protective water, heat and grease-resistant coating, has ruggedized 6-axis articulated robot arm fully that qualifies for IP67 certification (indicates waterproof plus protection against dust over extended period of time, high-grade ISO 5 Cleanroom classification (ISO 14644-1), protection from chemical agents and the need to reduce the risk of contamination. It also has NSF H1 food grade lubrication.
Comau says that its Racer-5 SE addresses the specific need for speed, accuracy and repeatability within cleanrooms and other sensitive environments.
What about humans?
Connor W. Coley, assistant professor of chemical engineering at MIT, says advances made in pursuit of the autonomous laboratory reveal the critical importance of the human element.
"Humans are always going to set the design objective and specify something that an algorithm can reduce to a numerical optimization," Coley says. "Humans will always be setting the big-picture goal" through rounds of interrogation.