News briefs for the week take a look at in vitro fertilization of a human ovum using a robot, needle, and a SONY PlayStation 5 controller, small batch machining tripling its output with a robot work cell, Ripe Robotics' new offering of HaaS (Harvest as a Service), Kodiak Robotics automating Class 8 EV trucks, and echolocation for AGVs and mobile robots winning a first place at LogiMat 2023.
Robots, needles & babies
A new age of desktop in vitro fertilization (IVF) has arrived. The net-net for couples wanting to yet unable to have a baby: a robot, needle, and a SONY PlayStation 5 controller just crashed a billion-dollar industry with an inexpensive, reliable, and effective substitute.
In the U.S., the average cost of one IVF (in vitro fertilization cycle) can range from $15,000 to $25,000, according to Dr. Jennifer Ashton, ABC News chief medical correspondent and a board-certified OBGYN physician. Plus, there's the emotional toll, as one woman recounted to ABC: "Going through IVF is brutal, isolating, and desperately lonely. It's a breakneck rollercoaster ride that whiplashes from hope to despair, moment by moment. It's physically, psychologically, and spiritually distressing."
About 500,000 children are born through IVF globally each year.
A Barcelona, Spain-based startup, Overture Life, has built a robotic system it claims "is an initial step toward automating in vitro fertilization, or IVF, and potentially making the procedure less expensive and far more common than it is today."
"Think of a box where sperm and eggs go in, and an embryo comes out five days later," says Santiago Munné, the prizewinning geneticist who is chief innovation officer at the Spanish company.
At New York City's New Hope Fertility Center, a mechanical engineer from Overture, without any medical training, used a robot, a needle holding a single sperm, and a PlayStation 5 controller to guide the needle, penetrated a live female egg or ovum and injected the sperm.
To David Sable, a former fertility doctor who now runs an investment fund, says IVF has been "40 years of outstanding science and really mediocre systems engineering."
Overture Labs has changed all of that by revolutionizing embryology.
Robot and FANUC RoboDrill triple throughput
A dental curing light uses a custom light-emitting diode (LED) for light-curing dental materials, even penetrating into porcelain for
curing underlying resin cement.
Utah-based Ultradent had a production problem in producing its Valo LED curing light. Small batch production was too slow: 50 minutes and three complex machining operations to produce one curing light.
The manufacturing process involved "hand-loading raw materials and finished parts; a cumbersome and sluggish process for a company that only had three employees on the shop floor per shift."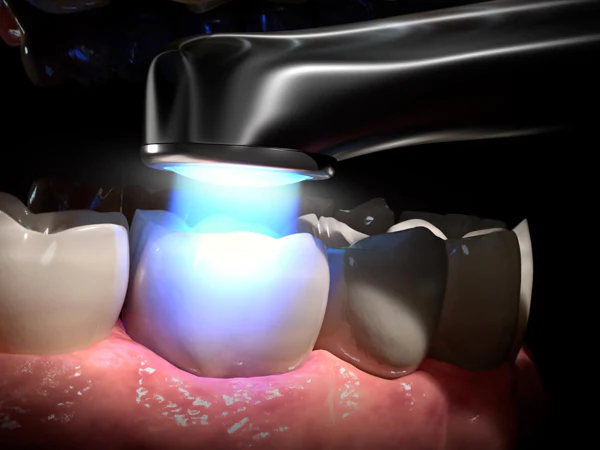 "We needed more reliability and faster cycle times," said Ryan Umpleby, Ultradent's Sr. CAD/CAM programmer.
Problem resolution: two custom automation cells, each consisting of a FANUC RoboDrill, a FANUC robotic arm, and room for raw stock storage. The cells now run 16 hours a day of unattended and lights-out machining.
Production cycle times were cut from "about 45 minutes, down to a 21-minute average. With only three employees on the shop floor per shift, automating the process of loading/unloading." With 24/7 operations underway, Ultradent increased its throughput almost threefold while also reducing machining costs associated with third-party processing.
Increasing to 24/7 operations, Ultradent increased its throughput almost threefold while also reducing machining costs associated with third-party processing.
Ripe Robotics HaaS (Harvest as a Service)
Most any orchard would love to free itself from hiring workers at harvest time or having to own and maintain robot harvesters. Australia-based Ripe Robotics and its fleet of robot harvesters offer both as services.
"We build and operate our own fruit-picking robots, using our own designs," says Hunter Jay, CEO of Ripe Robotics. "We can optimize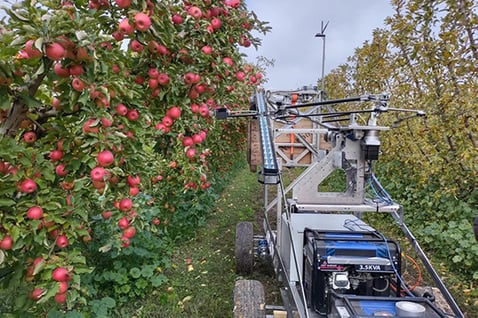 for the things growers care about—speed, price, quality of the pick—without optimizing for things that off-the-shelf robots usually need, like millimeter-level precision."
Instead of selling its robot harvesters, Ripe Robotics also runs them during harvest, instead of requiring growers to operate, maintain, and house the automated vehicles at the orchard.
Such an ease-of-use scenario for automated harvesting is refreshingly different for growers. Growers merely switch from hiring human workers at harvest to employing robots.
Jay says that such an arrangement also gives Ripe Robotics a leg up on product improvements and upgrades. Working the harvest offers Jay's team a firsthand look at the harvester and the harvesting process both simultaneously.
"Our robots will change things for growers as we scale up, reducing the amount of labor they need to find and manage each year," observes Jay, "and giving them much more information about what's going on with their fruit throughout the season."
Autonomous 18-wheel EVs
Class 8 trucks are a highway's monster travelers, usually tractor-trailer 18-wheelers with gross vehicle weights over 33,000 pounds. Big and clumsy, and quite dangerous if one ever gets out of control. To do a makeover of a Class 8 truck into an autonomous truck is quite an undertaking.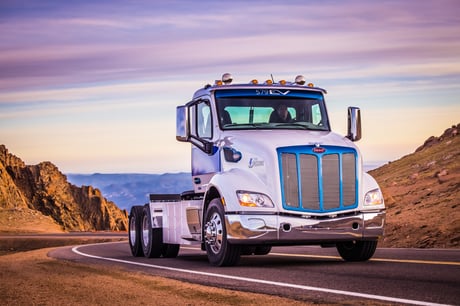 Mountain View, CA-based Kodiak Robotics has just completed such a self-driving truck makeover and introduced the first-ever autonomous electric class 8 truck: a Peterbilt Model 579EV electric.
The Peterbilt Class 8 truck is equipped with Kodiak's fifth-generation sensors. The company reports that its autonomous system is "vehicle- and powertrain-agnostic, which enables Kodiak to easily incorporate its autonomous system into emerging truck platforms as they become available, regardless of fuel type."
The Peterbilt can be recharged in three hours, claims Kodiak, and offers a peak power rating of 670 horsepower. With a range of up to 150 miles, the company additionally notes that "the truck is designed for short-haul and drayage deployments," and will become a test vehicle for Kodiak.
Echo One debuts and wins LogiMat "best prize"
Before LogiMAT 2023, Europe's largest trade show for intralogistics, closed its doors on April 27, it announced its three best-of-show prizes. Echo One, debuting along with 100 other new products, pulled off first place in the category "Order Picking, Conveying, Lifting, and Storing Technology."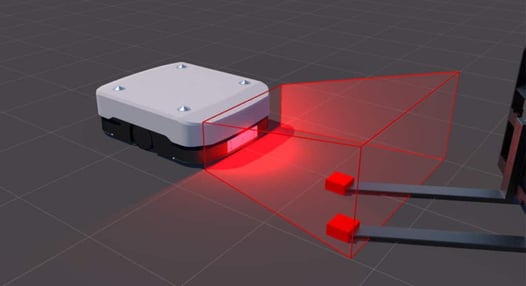 Echo One, from Germany's Toposens GmbH, is the company's 3D ultrasonic technology for collision avoidance, which is designed to mimic a bat's echolocation techniques.
Toposens claims that it's a first-ever sensor for AGVs and mobile robots. Unlike existing sensor technologies, said a company spokesperson, that can be negatively impacted by lighting conditions or moisture (such as fog), "the Echo One uses echolocation to generate robust, real-time 3D echo location data to guide autonomous systems across a variety of applications.
The performance of this 3D ultrasonic sensor is robust in harsh environments (featuring the IP67 protection rating), as it is dirt tolerant and not affected by dust, smoke, and mist."
Its low power consumption of 2.2 W supports a long robot uptime, while the Echo One offers solutions "to shortcomings of existing, typically optical range-finding technologies through best-in-class 3D object detection (such as detecting forklifts in 3D space)."