News briefs for the week take a look at deep-diving aquatic humanoid robots that offer a sense of touch, both multi-vehicle and single-vehicle retrofit systems for industrial autonomy, breakthrough robotics for small intestine endoscopy, and an inspection robot for aging and ailing dam infrastructure.
Undersea world of OceanOne
A humanoid form isn't the most popular robot build when it comes to underwater exploration. In fact, one's never been built, until now.
So, it came as a big deal when a subsea humanoid robot named OceanOne, while 500 meters down in the Mediterranean, allowed Stanford University's Oussama Khatib, above on a research vessel, to experience sight and touch as the robot explored a sunken cruise ship.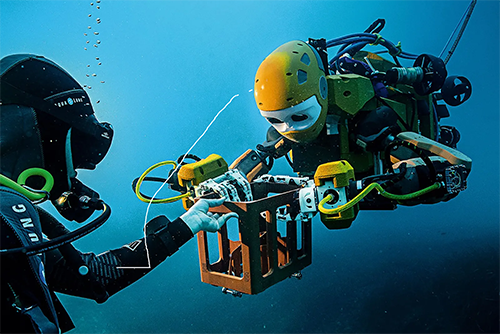 "You are moving very close to this amazing structure [the cruise ship] and something incredible happens when you touch it: You actually feel it," said Khatib, which also had never been done before.
OceanOne, with a humanoid upper torso and a lower half of eight multi-directional thrusters, has a haptic feedback system in its hands and sees with stereoscopic vision, and offers "incredibly realistic sensations" of everything it sees and touches.
According to Khatib, director of the Stanford Robotics Lab, the mission of OceanOne has two purposes: "to explore places no one has gone before and to show that human touch, vision, and interactivity can be brought to these sites far-removed from where people can operate."
"This is the first time that a robot has been capable of going to such a depth, interacting with the environment, and permitting the human operator to feel that environment," said Khatib.
Two views: retrofitting vehicles for autonomy
Multi-vehicle, multi-purpose autonomy
Fresh out of stealth mode, San Francisco-based Polymath Robotics, basically asks the question: Got an industrial vehicle that you want to automate? Any vehicle, like an automated robot, forklift or tractor will do; as long as it's to operate in a controlled environment, such as a warehouse, construction site, farm, or work yard.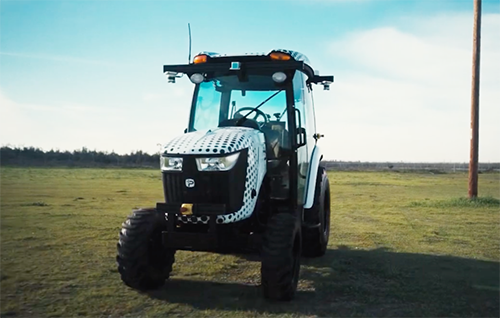 Polymath has developed a plug-and-play software platform (plus SDK or System Development Kit) that allows companies to quickly and cost-efficiently automate industrial vehicles.
The software is hardware agnostic and provides all the necessary control for path planning, hazard detection, behavior trees, human detection, turning, and safe operation. Polymath claims that its basic generalizable autonomy software has a marketplace "of 50 million or so industrial vehicles that are operating in closed environments today."
Polymath's platform, says the startup, lets a warehouse owner, or builder, farmer or mining company bypass "the often-long process of building out autonomy, a safety layer and front-end app."
In truth, Polymath does need a bit of help in making, say a tractor, autonomously operate by itself; it needs a piece of hardware, like a retrofit, installed on the vehicle. "Polymath has partnered with Idaho-based startup Sygnal Technologies to help on the hardware side of things by providing the necessary retrofit with its drive-by-wire kit.
Single-purpose, single-vehicle autonomy
Brighton, Colorado-based Outrider, on the other hand, makes autonomy gear for single-purpose automation, i.e., automating vehicles for yard operations at logistics hubs.
Yard trucks remain at a single location hitching up to and moving trailer-truck trailers from in and out of loading bays and/or other parking positions or slots.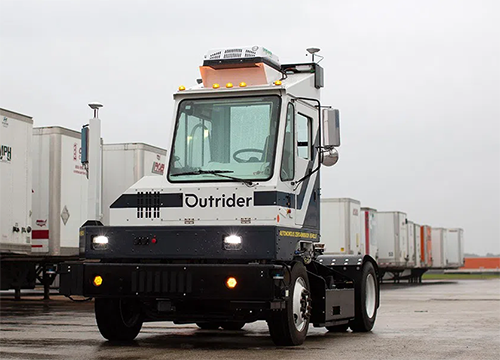 "Distribution yards are harsh industrial environments with around-the-clock operations," says Andrew Smith, Outrider founder and CEO, "that require rugged, easy-to-service and remotely supportable products."
Fitted atop the yard vehicle, Outrider's autonomy kit includes the "NVDIA Drive compute architecture for perception system processing; Ouster's high-resolution LiDAR sensors for perception; and Yaskawa's industrial robotic arm for connecting and disconnecting trailer lines." July of 2022, Outrider announced its next-generation autonomy kit for yard automation. "Supporting over-the-air software updates and field-swappable units."
Outrider has branched into an autonomy-ready electric (EV) yard truck offering. Together with its customers, it has purchased 24 of these EV vehicles for expanded customer pilot programs and test operations with the latest autonomy kit.
In addition, "Outrider automates other manual tasks traditionally performed in the yard, such as autonomously hitching and unhitching trailers; connecting and disconnecting trailer lines; interacting safely with loading docks; tracking trailer locations; and integrating with supply chain management systems."
Goodbye, small-bowel endoscopy!
Probably no one would lament ever having to forego an endoscope's probing into their stomach and small intestine. What a relief! However, some hospitals might. The average charge for an endoscopy is $1500, and over there are 50 million performed annually in the United States.
Well then, in the interest of saving lots of patient stress and discomfort, while saving millions of dollars in unnecessary endoscopic exams, say hello to NaviCam from AnX Robotica (Plano, TX).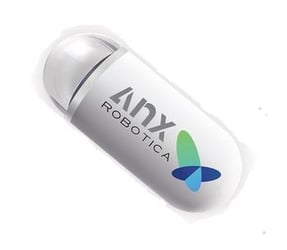 The NaviCam capsule (27mmx12mm) is swallowed by the patient, which then travels from the stomach and into the small bowel, all the while relaying HD images to the monitoring system. "An external robotic control manipulates the capsule in all directions and incorporates software, which if they choose, can enable the physician to recognize abnormalities."
Interestingly, the visual results are not only seen by physician and medical team conducting the exam but are also read by AI, using a system called ProScan. The AI incorporates "Deep Neural Networks (DNN), such as a Convolutional Neural Network (CNN), a deep learning algorithm that can differentiate one image from another, which enables ProScan to assist with the identification of multiple subtypes of abnormal lesions found in the small bowel.
"ProScan was trained to differentiate abnormal from normal images using over 150 thousand images collected from 1,970 patients with an accuracy of 99.88% in per-patient analysis over conventional analysis."
Here's how it works:
DamBot inspections can save lives
Typically, inspecting dams involves entering huge outlet tunnels and spillways, which is always risky for inspection teams, and can be made even riskier if the team needs to view and analyze a known problem or trouble spot.
The U.S. Army Corps of Engineers (USACE) operates and maintains more than 700 large dams across the country, and as the Corps tells it: "many of them are past their expected design life and in deteriorating conditions, and inspectors must make regular assessments to ensure safe and continued operations. This is no small task, particularly when it comes to earth dams."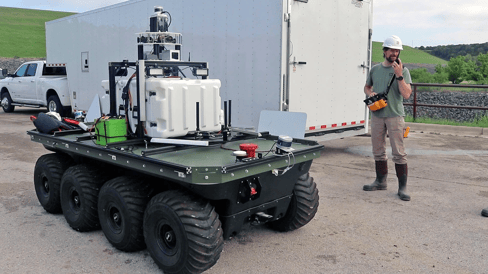 Ageing and ailing infrastructure inspections is a prime opportunity for a robot to take on the risks. The U.S. Army Engineer Research and Development Center (ERDC) has developed DamBot for just such tasks.
The DamBot a robotic platform allows engineers to carry out inspections safely with the "ability to operate heavy machinery beyond visual line of sight." DamBot is equipped with high-resolution cameras and LiDAR, which offers an extremely detailed model of the entire outlet works system.
ERDC's Dr. Anton Netchaev said "DamBot's 17-foot robotic arm will allow us to get up close to some very challenging-to-reach places. We are also working on collaborative task execution between robotic platforms and will soon stand up an Edge Computing Facility, which will give us some additional space to work on these very complex and challenging problems for the Corps."