News briefs for the week take a look at the revolution in new-age logistics, where many technical tasks are quickly diminishing while others are arriving just as quickly; like the combination of AR, VR, 5G, and advanced imaging to industries interacting with simulation, predictive maintenance, building management, remote operation, and advanced robotics…all in unison! We also take a look at three developers and their new-age answers to the old-world difficulties of moving pallets.
The revolution in new-age logistics
In the past few years, five things have been happening in robot-driven automation of logistics that are hard NOT to notice: 1. Robots and cobots taking up less space; 2. more affordable; 3. faster packaging; 4. improved workplace safety; and, 5. time freed up for employees to do other value-added tasks (or to be laid off).
That's the take of Brad Arrington chief editor of Packaging Strategies and Flexible Packaging in his article titled Technology is Revolutionizing Cartoning and Case Packing.
The list of the reasons why the five things are happening in logistics is there if you dig it out. Arrington's digging uncovered things like improvements in "machine vision, end-of-arm tooling technology, artificial intelligence (AI), machine learning, durability, and safety."
In addition, robots and cobots have become simpler to both program and operate, reducing the level of technical skill needed for successful deployment. However, what's changing for employees is that they need to acquire new skills for predictive analytics driven by artificial intelligence, machine learning, and edge computing.
The use of AR (augmented reality) and VR (virtual reality) technologies (with 5G cellular) in industrial applications is also growing significantly, helping manufacturers, logistic operators, and other organizations to improve productivity, reduce costs, and be more efficient and competitive.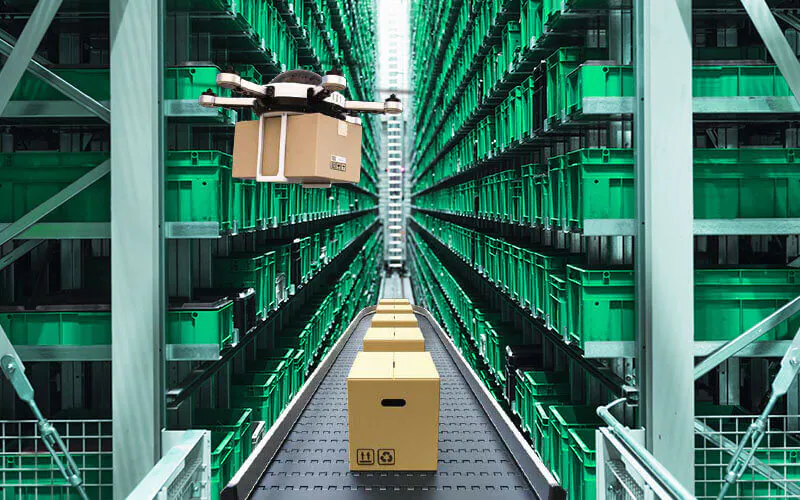 So, as employees see skills for operating robots and cobots diminishing, new skills arise and are being required for combining AR, VR, and advanced imaging for industries to interact with different assets and workers using digital twins. Today, digital twin applications include simulation, predictive maintenance, building management, remote operation, and advanced robotics.
Professor Karthik Ramani of Purdue University works with manufacturers to create virtual factories. They can explore labor-saving technologies using AR before implementing them in a factory or warehouse settings. "AR lets users see exactly where a robot will move just by looking at their surrounding environment," says Ramani. "There is no need to translate a location from a map overlay to the real-world environment, which might incur an additional cognitive burden, as that work has already been done for them."
All of these new skills help factory and warehouse workers to interact with robots and cobots. In turn, they can determine if the robot can help improve productivity. They can also virtually experiment with floor arrangements to maximize productivity.
Addington points to Peregrine as an example of "a high-speed, vision-guided, robotic, top-load cartoning system. With a small footprint one-third the size of traditional top- and end-load cartoners, Peregrine places carton forming, loading, and closing inline so there's no wasted real estate, saving food producers valuable floor space."
In exchange for increased productivity and robots that are easier to program, deploy and operate, new skillsets for employees will utilize AR, robots, and cobots with vision as among the key innovations taking efficiency to the next level.
New movers for old pallets
The venerable shipping pallet hasn't changed its looks much in over seventy years. However, once loaded and in need of being moved, all manner of new machines are ready to move pallets faster, cheaper, and more productively than ever.
Formerly, with only pallet jacks as assistive devices, pallets were slow movers, sometimes taking an hour or more to unload a trailer. Over the years, the dock has become a focal point for warehouse automation, and amazing robotics have been built to mitigate some of the bottlenecks.
Three new entries made an appearance at the recently concluded ProMat 2023 in Chicago.
Big Joe's Pallet Mover
With a history of seventy years of materials handling, Big Joe Lift Trunks (now majority owned by China's EP Equipment), is out with its newly developed autonomous Big Joe's Pallet Mover, a new—either user-directed or fully autonomous—mobile robot.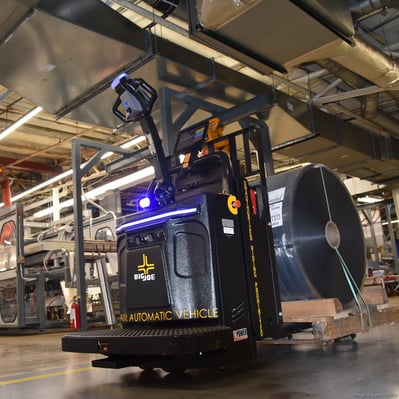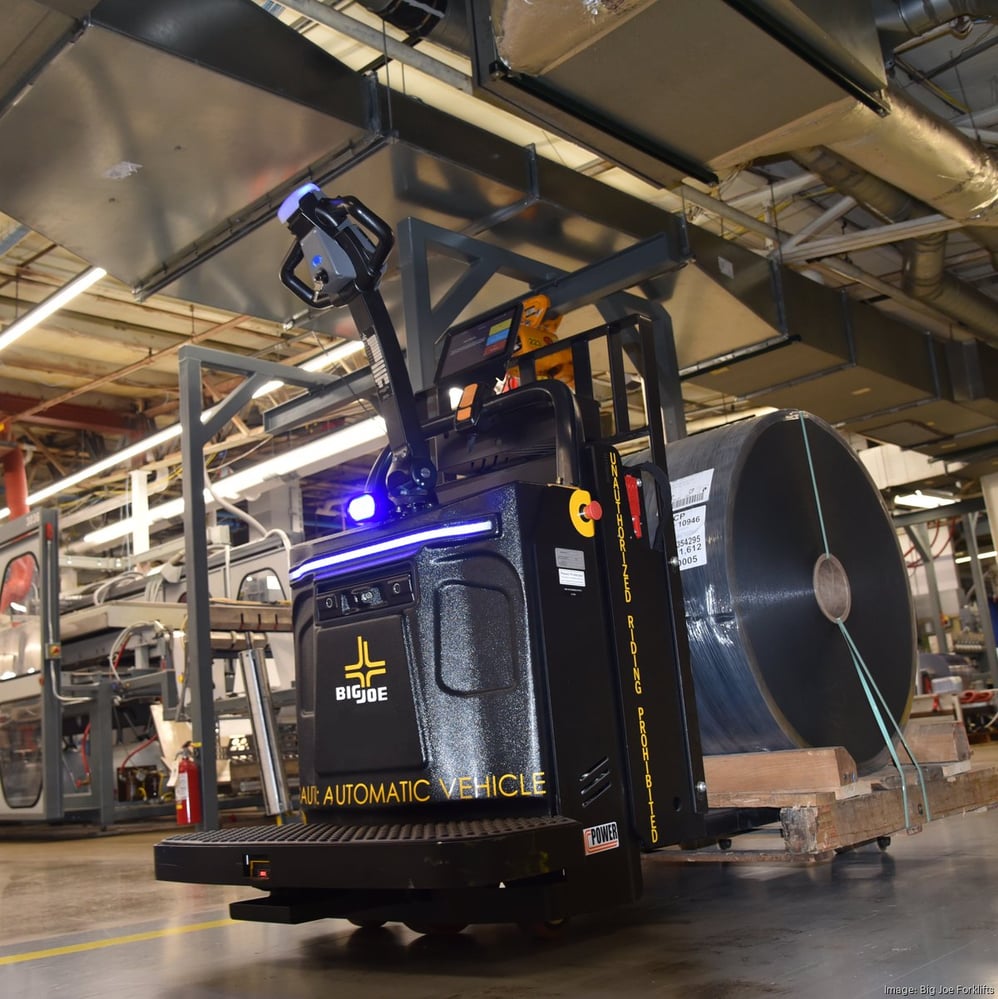 As with many logistics robots developed in the past few years, there seems always to be an AI component necessary for the build. For the Pallet Move, it was Thoro.ai and its self-driving technology.
Developed in partnership with Thoro.ai, the Big Joe Pallet Mover is an easy-to-deploy autonomous solution for floor-to-floor pallet transportation and drop-off.
Essentially, Pallet Mover is an automated pallet jack with self-driving capabilities. The user, from the intuitive tablet interface, instructs the Pallet Mover where to go. And off it goes!  "Pallet Mover can transport up to 4,400 lbs. of materials at speeds of up to 2.8 mph and can operate continuously for up to 10 hours."
"The magic to that is our user-directed approach to automation," said Bill Pedriana, Big Joe's chief marketing officer, "which, by nature, is focused on empowering workers and eliminating the need for complicated systems integration."
The new Big Joe Pallet Mover works just like a conventional lift truck but features LiDAR, and a camera system to transport and drop pallets to locations autonomously once the operator loads it and selects a mission.
The self-driving technology component for Big Joe's is likened to a "productivity force multiplier" that allows workers to focus on higher-value tasks.
ForwardX Robotics's Apex C1500-L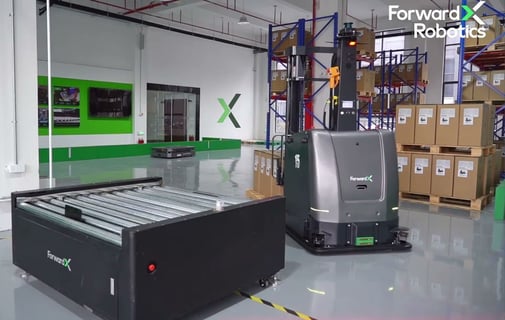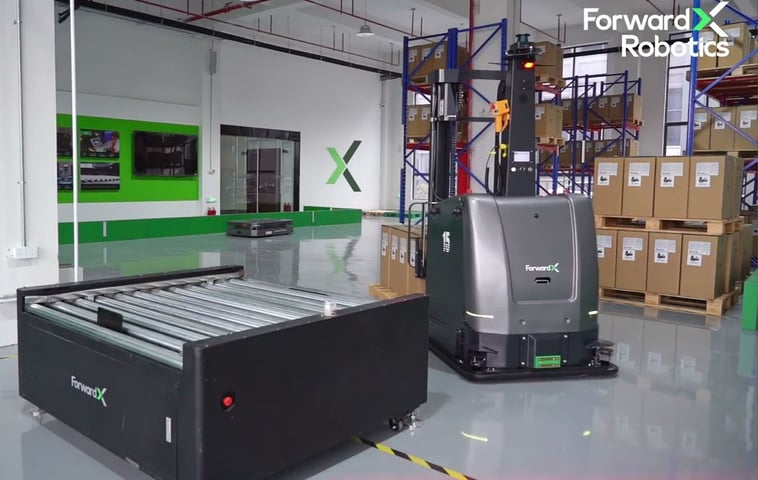 Forklift for all seasons? The new, ForwardX Apex C1500-L autonomous forklift was designed with multiple workflows in mind, including receiving, stock put away, restocking, cross-zone handling, conveyor docking, and outbound workflow.
Flexibility, and greater autonomy, are the hallmarks of this new offering, which was also on display at ProMat2023.
Nicolas Chee CEO of ForwardX Robotics, says that the new Apex C1500-L fills a much-needed place in the company's product lineup because it has a payload capacity of 3,300 lbs., and ensures ±2.3 in pallet placement precision. "The forklift can identify the angle at which a pallet is placed and adjust autonomously in real-time to complete its task even when a pallet is misplaced."
Seegrid
Seegrid brought its well-known Palion AMRs to ProMat2023; it's a fleet, according to Seegrid, that has "driven nearly 10 million autonomous miles in customer production environments."
For ProMat, Seegrid had some expanded capabilities built into the Palion Lift and Palion Tow Tractor: Lift and Tow Tractor can now "work in combination to load and unload carts with no human intervention necessary,"  which previously had been a difficult, time-consuming and labor-intensive workflow