News briefs for the week take a look at a cobot as a data-driven, AI-chemist, then way up we go for robots working wind turbines inside and out, then Singapore's new robot street sweepers, followed by fast-moving, crop-scouting farm robots, and then robots as family historians.
World's first data-driven, AI-chemist cobot
With AI-driven cobots firmly ensconced in pharma and bio labs, it wasn't long until the duo showed up in chemistry and materials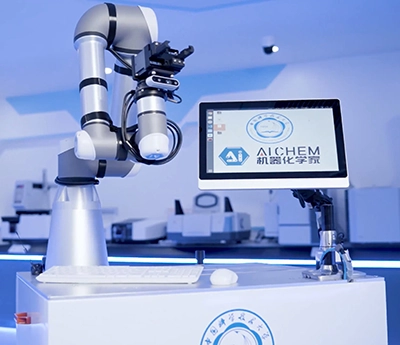 science labs. China's Xiaolai is the first! Co-developers: University of Science and Technology of China (USTC) in Hefei, Anhui province; the School of Chemistry and Materials Science; and the School of Information Science and Technology.
One such project for Xiaolai, say the developers, is "to find the best recipe for catalysts to improve the efficiency of electrochemical energy storage…as with hydrogen batteries;" another, inventing materials for materials science. In one such case, "Xiaolai chose manganese, copper, cobalt, nickel and zinc as candidate elements from 118,000 possible combinations." What would take "a hundred years to perform," the AI-driven cobot did in five weeks.
So, just how does Xiaolai mash its AI and cobot skills together to be so revolutionary in laboratory discovery? Xiaolai's artificial intelligence consists of three modules:
A machine reading module that can automatically read massive amounts of literature, like 16,000 research papers,
A mobile cobot module to conduct various chemical experiments, and
A computational brain module to generate predictive models based on theoretical calculations.
The cobot was designed to move freely in a lab, going from workstation to workstation, with an arm that can hold test tubes or handle instruments of various types.
"Researchers say Xiaolai can read scientific papers, design new experiments, peer into microscopes, and even analyze results to create useful new chemicals. Wow!

Robots that inspect, clean, and repair wind turbines
Well-maintained wind turbines can offer 20 years of power generation. With an ROI of three years, say the experts, well-maintained wind turbines can also offer decades of profit.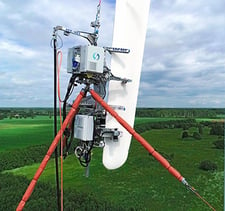 Aerones, a startup (2015) in Riga, Latvia, already has its service robots maintaining thousands of wind turbines for such mega-clients as Siemens, Gamesa, Enel, GE, and Vestas. Aerones inspects, cleans, washes, paints, rust coats, and repairs exterior blades but also services the interior tunnels in each blade.
In the U.S. with 70k installed wind turbines, and with China and the EU more than double that figure, Aerones looks to have a compelling business case for many years. The company, according to its website, "has serviced 5,000 onshore wind turbines and 12,000 blades in 19 countries to date." Seems investors agree: Aerones just raised $38.9 million in new funding (December 2022).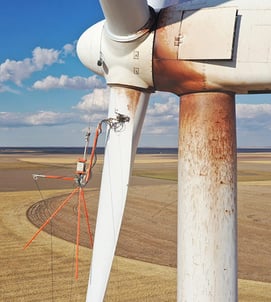 The company claims patents on its robotic tech, claiming that it is compact and highly portable, can be "transported in a single van," and takes only three technicians to operate. In most cases, there's no longer any need for workers to dangle on ropes high above.
The company says it "inspects and maintains turbines up to six times faster and up to 40% more cost-efficiently than humans."
In addition, the robotic system allows the industry to replace the need for humans to perform blade maintenance while hanging on the ropes at high altitudes.
Plus, in taking the human out of the equation, the robot operates much faster than a worker, which shortens downtime, extra costs, and carbon footprint during the services.
Singapore: Doubles down on robot street sweepers
Singapore, once described as a place "so clean that bubble gum is a controlled substance, is universally known for its perfectly paved roads, manicured public parks, and spotless, litter-free streets."
With an aging population, dwindling supply of public sanitation workers, and with an eye to shrinking its sanitation budget but still wanting the cleanest of streets around, Singapore has quickly reached for robotics to help the situation.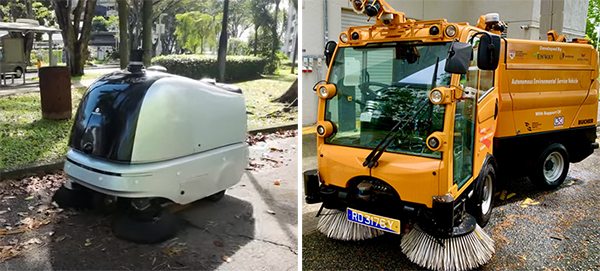 Two, new, autonomous street-sweeping robots have been approved for use in public places.
Singapore-based Weston Robot deployed its 5G-powered autonomous robotics street sweeper (see video). Small, but billed as having heavy-duty cleaning abilities; plus 5G and 3D LiDAR, for remote control and operation of multiple robots by a single operator.
The second municipal street sweeper is the CityCat V20 Electric from Berlin, Germany-based startup Enway.
Enway, a software developer for self-driving utility vehicles, partnered with Swiss-based Bucher Municipal to develop the CityCat. From 2019 until its recent approval, the 4-wheel sweeper has been undergoing autonomous test cleanings on Singapore's public streets.
"Sanitation and hygiene have been reemphasized as a top concern in light of challenges caused by the coronavirus particularly at cities with dense population. As the world's urbanization grows, the challenges of sanitation will only grow further."
As such, street-sweeping sanitation is a fast-growing global market estimated to be valued at $1.3 billion in 2023, and forecast to be $2.9 billion by the end of 2033.
"Crop-scouting" farm robot is a speed merchant
Most farm machinery, autonomous or not, are rather slow. On average, 20 mph (30 km/h) according to FarmWise. The French have recently added speed to the equation, and it's making a big difference, especially in places like super-large 1,000-acre (400-hectare) wheat farms.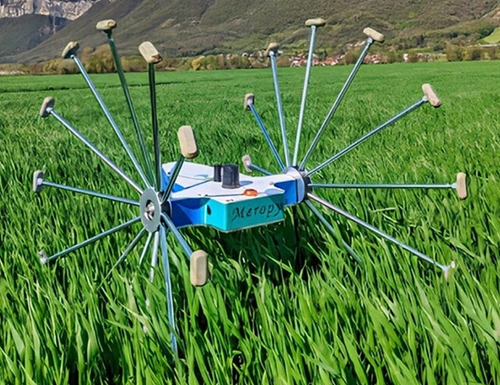 French startup, Grenoble-based Meropy, has developed a crop-scouting robot, the GPS-guided SentiV, a small 2-wheeled robot which is both fast and powered by artificial intelligence. SentiV, according to Meropy, "provides solutions for tedious tasks such as monitoring for pest infestations, plant diseases, and unwanted weeds. Speed: 50 acres (20 hectares) per day (see video).
The crop scout's AI algorithms are trained to spot threats, monitor growth, and identify signs that the plant might need more or less water and nutrients. All of which helps keep expenses for water, herbicides and fertilizer down, thereby lessening spend and increasing profit.
SentiV can scout for problems or monitor a given area based on a pre-determined trajectory, using a dual-camera system where imagery data is analyzed by AI software. Meropy claims that the crop-scout "is great for catching problems early on, and with precision."
Minus the usual tires and treads that can damage crops, SentiV and its cameras can peer under leafy crops to get a highly accurate look at crops from seeding to harvest.
Because the 33-pound mobile robot is light and navigates fields on rimless spoked wheels, it makes much less contact with the ground, and therefore keeps crop damage to a minimum.
How about a robot as family historian?
Instead of a family scrap book or memory sticks of media loaded with a family's life events and special occasions, what about an undying, self-repairing home robot as family historian that records and stores everything?
A family robot that would record (audio and video) of the good, bad, and ugly of a family all year long, and then with the help of generative AI, organize it all into an annual movie co-narrated by Orson Wells and Lauren Becall (both deceased)?
Sound good? Wow, bring your own popcorn.
Jonathan Roberts, Director of the Australian Cobotics Centre, and Chief Investigator at the Queensland University Centre for Robotics, is out with an article titled: Our future could be full of undying, self-repairing robots. Here's how.
AS FOR SELF-REPAIRING ROBOTS: Since both biological forms and machines need repairs every so often—more frequently as they age, Roberts reports about a Japanese research group that is successfully teaching robots to repair each other.
AS FOR UNDYING ROBOTS: Roberts cites a San Francisco startup called Nano that uses nuclear waste and ultra-thin diamonds at its core to create the Nano Diamond Battery that lasts over a thousand years.

Well, that could be a great start for a family history robot. Then, once trained on all of the family's available media (photos, pictures, videos, sound recordings, diaries, etc.)—maybe throw in "ancestry.com" for good measure—it's all ready for assembly by the newly available (and still maturing) generative AI.
Like a Cuisinart of life events that mixes together everything for the grand recipe, the home robot historian would be looked to as a cherished family member who chronicles everything, almost forever.
"Oh please, robot, recreate the scene where dad proposes to mom."