News briefs for the week take a look at a robot startup braving a warzone and still becoming successful, a robot tire changer completing a one-hour job in twenty-five minutes, a newly-launched Canadian humanoid robot that is at home in a retail environment, and two other Canadian robot developers honored in Fast Company's best robots for 2023.
Warzone robotics
It's difficult enough inventing and developing robotics under the best of conditions, however, to do so in a warzone, especially one that is the Ukraine these days, must be downright scary, and moment-to-moment dangerous.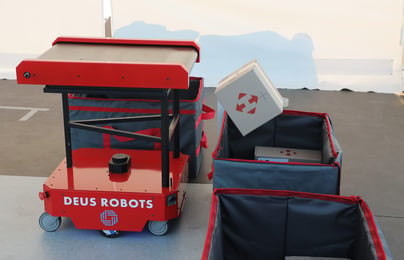 Kyiv-based Deus Robotics (established in 2018), after a brief stint away from the capital in western Ukraine, is one of the few that returned to soldier on and even bring their robots to market. Deus technology is centered on two types of logistics robots: A sorting robot with a table and rubberized conveyor for transporting packages; the other, two AMR models for transporting heavy goods or moving carts. That market, for now, consists of a pilot program with Ukraine's largest private postal operator, Nova Poshta.
"Deus Robotics' ability to adapt and thrive in difficult circumstances is proof of the company's strong leadership and innovative technology," said Vlad Tislenko, a partner in the VC group that spotted Deus $1.5 million in seed funds.
The 40 sorting robots working in Nova Poshta's mailing hubs have led to a "200% increase in parcel processing speeds compared to manual warehouse workflows."
Next move for Deus is launching a U.S. sales office where it hopes to connect with high-profile users, so the new company can expand operations and scale manufacturing.
Before them, says Tislenko, is a lucrative logistics market for robotics currently estimated to be worth $7.5 billion.
Robots & the 25-minute tire change
Changing four tires on a passenger car can take an hour to accomplish, plus it's generally a dirty, laborious job for the person doing the change. Not so with Detroit-based RoboTire's automated tire changer that takes about 25 minutes to do the same job.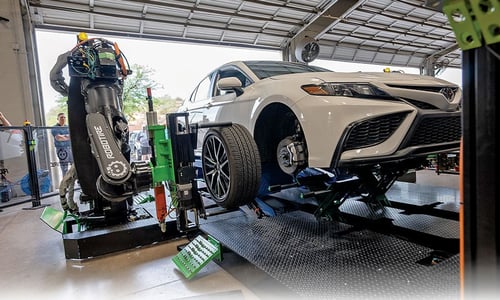 RoboTire, teaming up with Mitsubishi Electric Industrial Robots (also an investor; and also, surprise! an automaker), in 2020, installed its first tire changer in a single bay at Discount Tire (also an investor) Fountain Hills shop in Arizona. 60-year-old Discount Tire has over 1,100 tire shops nationwide. "About two weeks ago, Detroit-based automation company RoboTire implemented its technology at in Arlington, Texas, marking its second partnership with the retailer.
"When a car pulls up on the green platform, at the Discount Tire store in Arlington, two robot arms scan the car's tires to locate their lugnuts, which are several bolts used to secure wheels," said Ben Wilson, company spokesperson.
"Before the robot is put to work, though, technicians use a handheld scanner to get the VIN number of the car for the robot to learn the vehicle's exact specifications."
After the robot removes the bolts and places an old tire onto a mat, a green light turns on, indicating it's safe to re-enter the floor. A technician then fills up pressure in a new tire and places it on a designated mat for the robots to install, or torque, them onto the car. This process repeats three more times for the car.
In 2021, overall shipments of U.S. tires for replacement on passenger cars was 222 million tires. With Discount Tire's annual revenues over $5.2 billion, some of its 25,000 employees may see robot replacements in the very near future. RoboTire's future looks better than bright!
Day in the life of a humanoid robot doing retail
If you'd rather a little more of the personal touch from a robot, then Vancouver-based SanctuaryAI's new humanoid robot may be a helpful choice.
As the company's website says of its mission: "Join us on our mission to create the world's first human-like intelligence in general-purpose robots."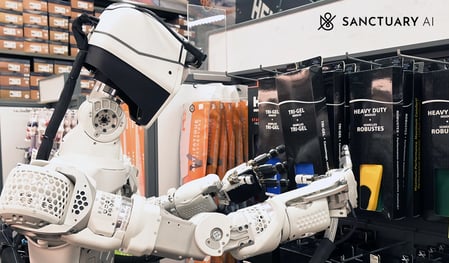 It's a first of its kind, and they are duly proud: "Sanctuary Cognitive Systems Corporation (Sanctuary AI), a company on a mission to create the world's-first human-like intelligence in general-purpose robots, today announced that it has successfully completed the first-ever deployment of a unique system designed to deliver the world's first human-like intelligence in general-purpose robots at a customer commercial facility through its partnership with Canadian Tire Corporation (CTC)."
On March 7, 2023, the talented humanoid began a week-long trial at Mark's retail store in Langley, British Columbia, Canada (no employee number and still no name!).
Mark's genuinely offered a true-to-life retail store experience, and the robot, given 110 retail-related tasks, completed them all successfully. The tasks included front and back-of-store activities such as picking and packing merchandise, cleaning, tagging, labeling, folding, and many other retail functions usually performed by humans.
SanctuaryAI is composed of team members who hail from some absolutely top-flight tech firms with impeccable DNA for robotics: Members of the Sanctuary team founded D-Wave (a pioneer in the quantum computing industry), other engineers are from Kindred, and more from the Creative Destruction Lab. All have experience
"Many organizations are facing labor challenges. Our population is aging, birth rates are declining, and workers have more choice for what they do and where they work than ever in history," said Geordie Rose, co-founder and CEO, SanctuaryAI. "Through our partnership with Canadian Tire Corporation, we worked on analyzing how their work was done and what work people like and don't like doing, in both their retail and distribution center environments.
A human-like AI controlling world's first human-like intelligence in general-purpose robots general-purpose robots should be able to perform physical labor across virtually every industry. A brand-new category that, according to Goldman Sachs, has the potential to be a market of up to $154 billion by 2035.
And the company has believers who have anted up $58.5 million to help build this "world's first human-like intelligence in general-purpose robots."
Canada's on a robotics hot streak for 2023

While Vancouver's SanctuaryAI is doing first-ever robotics and getting big-time kudos for it, Fast Company's annual The 10 Most Innovative Companies In Robotics of 2023 is out and it hosts more Canadian robotics developers, one each from Kitchener (Ontario) and Calgary (Alberta).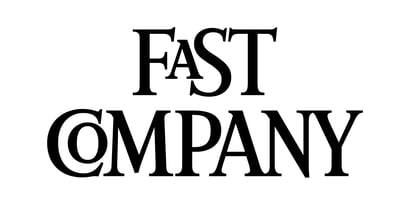 Attabotics
Founded in 2015, Calgary, Alberta-based Attabotics builds densely packed vertical storage structures that utilize robots and AI to find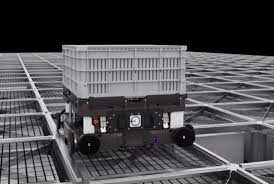 and fetch items. All accomplished barely 15% of the standard warehouse space.
Attabotics was a Fast Company Most Innovative Company in 2020 for its robotics system inspired by the structure of an ant colony; in September 2022. In September, the firm announced Attabot 2022, the first commercialized version of its technology; and in 2022 also nabbed $71 million in investment to grow its vertical robotic warehouse solution. One month later, in October of 2022, Attabotics won a contract with the Department of Defense to provide its system for a prototype Marine Corps Logistics Command warehouse in Albany, Georgia.
Otto Motors
Named in the Fast Company Top Ten: For bringing location-aware intelligence to factory robots.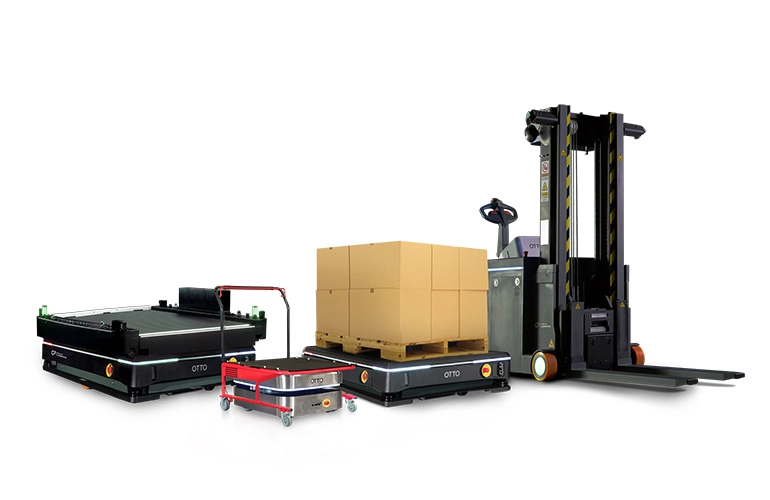 Otto Motors, writes Fast Company, "has found a market in warehouses by providing robots, including a self-driving forklift, that are smart enough to stay out of the way of human employees and other robots."
Otto is a division of Kitchener, Ontario-based Clearpath Robotics. The Otto Lifter, introduced in March 2022, is a self-driving forklift.
Responsible for up to 10% of workplace injuries, traditional forklifts present a clear worker hazard. The Otto Lifter offers such features as dynamic path planning, pallet detection, and lane tending while being able to lift 2,640 pounds and reach up to two and a half feet while in autonomous mode.