News briefs for the week take a look at the return of PACK EXPO International after its 4-year COVID-caused hiatus from the tradeshow circuit. Promising a big-bang reentry with its 2022 Chicago show, the production, packaging and packing event giant has an agenda stocked full of new additions and enlarged pavilions.
PACK EXPO returns to showcase new tech, new looks & new staging
The 4Ps: Production, packaging, packing & palletizing
Post-COVID, tradeshows have been slowly lumbering back into the global event circuit this past year or so, most to highly receptive audiences. One of the biggest returnees, PACK EXPO International (Chicago, October 23-26), absent since 2018, is promising to return larger than ever with a flurry of new looks, staging, and attendee outreach.

Billed as the world's "most comprehensive packaging and processing" trade show, here's a look at what to expect…especially what's new on the expo floor.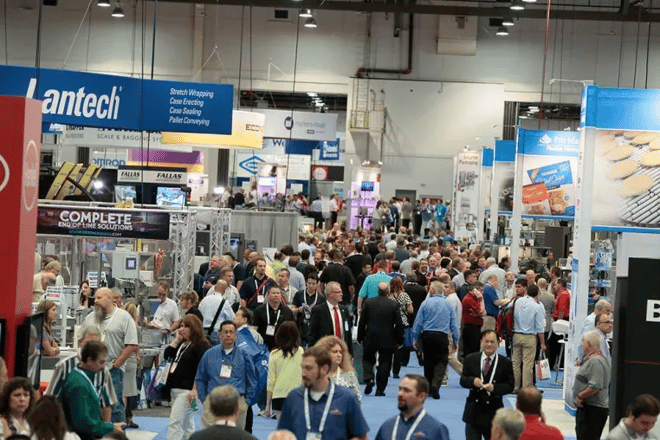 Generally, the overall PACK EXPO experience leans to Packaging and Processing, with exhibitors offering solutions in automation, robotics, materials and containers, digital printing, labeling, and supply-chain solutions.
There will be four years of pent-up PACK EXPO exuberance on display from both the 2,000+ exhibitors and the anticipated 15,000+ attendees (40k attendees jammed the 2018 show in Las Vegas).
The venue, McCormick Place in Chicago, with its 1.2 million square feet of exhibition space, will need it all to showcase an event that's all about production, packaging, and packing of everything from high-tech gear to confectionary (a/k/a candy!).
This year's theme: One Powerful Show
Jim Pittas, president and CEO of the event host, the Association for Packaging and Processing Technologies, promises an exhibition that includes new technologies, materials, machinery in action, and even the showcasing of entire production lines.
"There has been so much innovation in our industry since this show's last in-person installment in 2018," says Pittas, "that end users can't afford to miss this opportunity to see the latest breakthroughs live and in-action."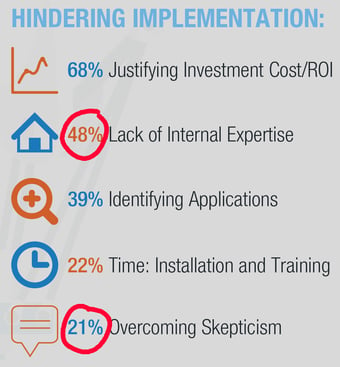 However, adds the Association, there are potential impediments that must be overcome in order for the 2,000 exhibitors to realize the full potential of 15,000+ attendees searching the expo halls for answers to their production requirements.
Basically, in an event infographic, five objections have been isolated from potential buyers that need to be overcome, which PACK EXPO has promised to help resolve.
Research shows that buyer reluctance to adopt automation gear centers on five concerns: 1. Justifying Investment Cost/ROI; 2. Lack of Internal Expertise; 3. Identifying Applications; 4. Time: Installation & Training; and 5. Overcoming Skepticism.
Interestingly, "Lack of Internal Expertise" and "Overcoming Skepticism" (circled in red) represent over 50 percent of buyer objections—that's five of every ten potential buyers approaching an expo booth. Both of these objections are essentially a function of education and trust.
So then, just what will PACK EXPO feature that addresses education and trust? From the looks of this year's agenda, plenty!
PACK EXPO has divided up its expo space so that attendees can easily hear from experts and see machinery-in-action—including entire production processes— offering solutions for over 40 vertical markets, and also to provide a forum for attendees to readily connect with colleagues. There are over 100 free educational sessions on the show floor.

PACK Match at PACK EXPO will debut for 2022, offering attendees complimentary, personalized, one-on-one guidance from PACK Match Advisors who will connect attendees with the right suppliers. Don't know or not sure of what you need or want from the 2,000+ exhibitors? Then hook up with a PACK Match Advisor for a guided tour targeted to your needs. And, best of all, it's free!
Also debuting, the Industry Speaks Stage, which offers expert sessions from PACK EXPO Partner Program members, who will address the latest hot-button issues and industry trends across multiple industry verticals. As mentioned, there are over 40 industry verticals at the show to access for the right fit for attendee needs.
This year's PACK to the Future Exhibit now comes with a new, educational component of industry-expert presentations, called the PACK to the Future Stage, where attendees can get up to speed on cutting-edge industry advancements.
New as well is the Processing Innovation Stage, which can be found in The Processing Zone (see show guide for location). In a world where "processing and packaging" are becoming essentially integrated systems, the Processing Innovation Stage will discuss the newest processing breakthroughs that are critical for today's manufacturers.
Also, another newbie to hit the big show is the Emerging Brands Summit, which is specifically geared to "founders and leaders" of "startup manufacturing companies" who are in the market to scale their brand to larger production, either by adding in-house expertise or by outsourcing production via a contract manufacturer and/or packager.
Don't forget the seven pavilions!
PACK EXPO International is well-known for its specialized "pavilions", which are targeted floor destinations that are dedicated to particular industries. Bowing to the life sciences and eCommerce, two new pavilions have been added for 2022: Logistics Pavilion and Healthcare Packaging Pavilion, both serving mega industries, now have their own targeted floor destinations as well.

Logistics Pavilion: Every product's journey from manufacturer to customer is dependent upon logistics. The Logistics Pavilion will be the gathering place for those tasked to find automation solutions for supply-chain must-haves, including warehousing, fulfillment, distribution, and transportation providers.
Healthcare Packaging Pavilion: Generally specializing in life science industries. In particular, innovations in packaging for pharmaceuticals, biopharmaceuticals, nutraceuticals, and medical devices.
Containers and Materials Pavilion: Want insider insights into what successful companies are doing for innovative container and packaging materials? This pavilion has award-winning samples to showcase…that just might spark an idea or two for you.
Confectionery Pavilion: Confectionary industry worldwide in 2022 is $1.3 trillion! That's a major sweet tooth. The National Confectioner's Association, showcases candy trends and technologies; plus, you can network in The Candy Bar Lounge.
Reusable Packaging Pavilion: As the name denotes, this pavilion "showcases reusable packaging solutions to help reduce waste, cut costs, and gain supply chain efficiency."
PACKage Printing Pavilion: Packages all need some sort of information marking, and this pavilion showcases digital printing, labeling, coding, and marking technologies.
Workforce Development Pavilion: And with recruiting, hiring, and retaining employees such a difficult chore these days, PACK EXPO will have a "one-stop shop for resources to strengthen one's current workforce and grow the existing workforce."

Since 2018, PACK EXPO has learned a few digital tricks on the way to 2022. With the headline, You Can Still Connect Online if You Can't Attend In Person, there's the PACK EXPO Express for online attendees (at $30) that provides a bargain basket of digital offerings:
The "ability to search products and exhibitors, including matchmaking capabilities and opportunities to connect with exhibitors in their online showrooms; and on-demand access to some educational content during and after the show, are just a few of many advantages of online attendance. 
Four years distant from its previous show, PACK EXPO planned to return in 2022 with a resounding bang. From the looks of the agenda, it looks like the show is going to be a grand four days of eye-opening tech…and very tired feet.