News briefs for the week take a look at Japan's FamilyMart robots restocking shelves, a giant Stäubli robot hefting around 176-lb. wheels of cheese, robots manually QC-ing apps on cellphone screens, Tesla's humanoid robot vs. Xiaomi's, and 800 ElliQ robots living with seniors.
Robots restock shelves at Japan's FamilyMart
In 2021, the 16,000-strong chain of Japan's FamilyMart convenience stores (called "conbini" in Japanese) opened its first totally "unmanned store"); here in 2022, it's now adding robots to restock shelves.
Lack of available retail labor (long a problem in Japan) and now adding a solution for boringly repetitive shelf restocking made robots an easy choice.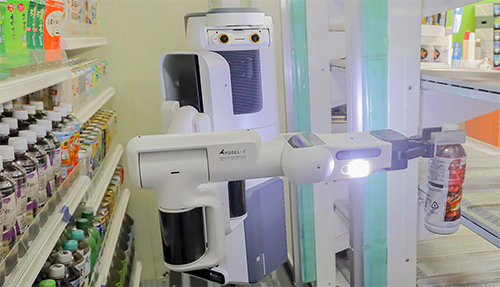 Tokyo-based Telexistence will supply its TX SCARA robot to 300 FamilyMart stores beginning in August (2022).
"TX SCARA runs on a track and includes multiple cameras to scan each shelf, using AI to identify drinks that are running low and plan a path to restock them. The AI system can successfully restock beverages automatically more than 98% of the time." For the 2% miscues, Telexistence has remote operators on standby to correct a bungled restock.
Jam-packed with NVIDIA tech, the TX SCARAs will be offered as Robotics-as-a-Service (RaaS) to FamilyMart. Success in Japan, says the company, will allow it to market North America's 150,00-plus convenience stores in 2023.
School days for robots: "The Telexistence team used custom pre-trained neural networks as their base models, adding synthetic and annotated real-world data to fine-tune the neural networks for their application. Using a simulation environment to create more than 80,000 synthetic images helped the team augment their dataset so the robot could learn to detect drinks in any color, texture, or lighting environment."
Cheese bot replaces "2.5 workers" at German dairy
The Leupolz Emmental cheese dairy in the Allgäu region of Germany employs a heavy-weight (1,000 kg (2,204.6 lbs), six-axis, Swiss-based Stäubli TX200L HE (HE refers to "humid environment version") to handle and care for 176-lb. wheels of Emmental cheese.
The plant processes about 6,000 cheese wheels annually.
Formerly, the work of the single TX200L was performed by three people. Today it is done by "half" an employee. There are obvious savings over time on personnel costs, and the robot also eliminates weekend work and overtime.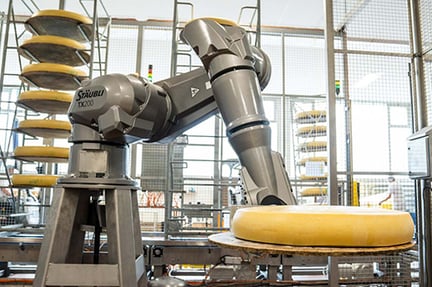 Taking care of a 176-lbs cheese wheel is labor intensive, according to Achim Baumgärtner, an executive assistant at the dairy. "Each cheese wheel has to be attended to about three times a week to ensure optimal quality. With an average maturation period of four months, the cheeses have to be washed, brushed, and salted between 40 and 50 times, which is potentially costly in terms of labor and expenditure."
The six-axis robot is equipped with a special gripper that resembles the prongs of a forklift [gripper alone weighs 33 lbs [15kg]. The gripper picks up the wooden board on which the cheese rests and places it on the system's conveyor belt; it is then washed, brushed, sprayed with salt, and finally dried with a blower.
When washed and dried, the TX200L picks up each wheel and returns it for more aging.
Robots QC-ing cellphone touch screens
Did you know that cellphone mobile app makers hire humans (usually from the likes of Applause, Infosys, and Qualitest) to "manually" QC-test touch screens?
Talk about boring jobs!
"Testing is a time-consuming and expensive process, with 31% of app development firms in one poll estimating expenses at between $5,000 and $10,000."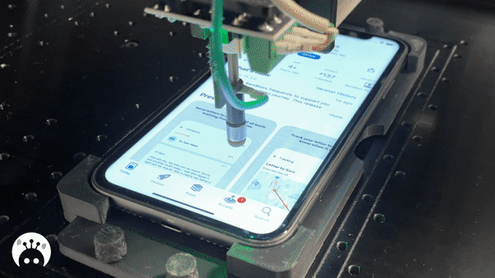 For some app makers, high-quality testing simply isn't available, either due to logistics reasons or the relentless push to reach release. "Users don't look kindly on poor experiences — 88% say they'll abandon apps based on minor glitches, according to software testing vendor Qualitest."
Eden Full Goh, and her startup New York City-based Mobot, thinks she has found a better way. Let robots do the manual testing. She sees her robots as better replacements for QC-ing than emulators and automated testing.
VCs Cota Capital, Heavybit, Uncorrelated Ventures, Bling Capital and Primary Venture Partners agree, and ponied up a $12.5 million Series A round to prove her point.
As Goh sees it: "At Mobot, we believe that the legacy testing frameworks will only take you so far, and don't cover real-world testing scenarios. We believe having mechanical robots do the tapping, swiping, and testing is the best option for accuracy, efficiency, and coverage – allowing your teams to focus on higher-value work."
Imagine a warehouse full of Goh's robots QC-ing apps instead of humans. Commonsense says it's the only way. According to RiskIQ, the number of mobile apps on the planet is a mind-bending 8.93 million, (2020), with China accounting for 40% of app spending).
To see just how boring this must be for humans, check out the two-minute video (try not to fall asleep!)
Humanoid robots: Tesla vs. Xiaomi
Tesla's humanoid is named Optimus, Xiaomi's CyberOne; both look similar, and both are after the same market: your living room.
In an interview released today, Elon Musk (Tesla's founder) said: "We plan to launch the first prototype of a humanoid robot this year [2022] …Thereafter, humanoid robots' usefulness will increase yearly as production scales up and costs fall. In the future, a home robot may be cheaper than a car. Perhaps in less than a decade, people will be able to buy a robot for their parents as a birthday gift."
Lei Jun, CEO of Xiaomi, onstage got a rose handed to him by CyberOne at the company's splashy launch event in Beijing. Lei Jun said: "CyberOne's AI and mechanical capabilities are all self-developed by Xiaomi Robotics Lab. We have invested heavily in R&D spanning various areas, including software, hardware and algorithms innovation."
Musk, as we've heard many times, says: Tesla, because of its major investments in autonomous driving, is arguably the biggest robotics company in the world.
The big difference so far is that CyberOne exists; Optimus, not so much. Xiamoi's humanoid looks a bit fragile as it walks (see animated GIF), however, "equipped with a self-developed Mi-Sense depth vision module and combined with an AI interaction algorithm, CyberOne is capable of perceiving 3D space, as well as recognizing individuals, gestures, and expressions, allowing it to not only see but to process its environment… CyberOne is able to detect happiness, and even comfort the user in times of sadness."
No doubt Tesla's automobile autonomy tech will find its way into Optimus someday soon. For now, CyberOne is tangible…and way out in leadership position.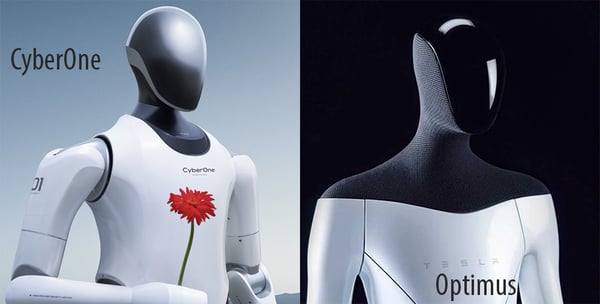 State of New York buys 800 ElliQ robots
One robot that is already in living rooms is Israeli-based Intuition Robotics' tabletop ElliQ. The New York State Office for the Aging (NYSOFA) has purchased 800. Cost: $250, with a monthly service charge of $30.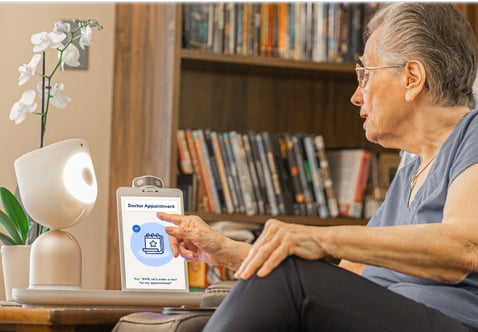 NYSOFA's Director Greg Olsen said: "We are so pleased to partner with Intuition Robotics and make ElliQ available to older adults in New York. This product does so many things to improve health, combat isolation, and improve overall well-being and independence. Designed with input from older adults, the future of supporting and serving older adults includes technology. The future is here."
In the U.S., there are 14 million adults over 65 who live alone (and growing fast!). Quite a market for ElliQ; quite the market as well for the vastly more expensive Tesla Optimus and Xiaomi CyberOne.
With the elderly the fastest growing group for suicide in the U.S., (National PubIic Radio: Isolated And Struggling, Many Seniors Are Turning To Suicide), ElliQ is an inexpensive option to direct, in-home care from a human caregiver. ElliQ is basically the "voice" of caring, which is what many seniors desperately need.